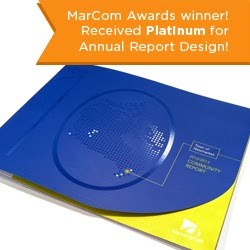 We're a small business, this is a big award and it's an honour to be recognized.
Toronto, Ontario (PRWEB) December 18, 2013
RC Design, the Newmarket-based web design company, announced yesterday that it is the recipient of a Platinum Award for creative print design in the category of annual report design.
For a second year running, RC Design has received recognition for the design of the Town of Newmarket's annual report, having won a Gold MarCom Award last year.
"There are so many fantastic creative professionals out there," says Rob Clark, owner at RC Design. "We're a small business, this is a big award and it's an honour to be recognized."
The MarCom Awards is an international competition that recognizes the outstanding creative work by marketing and communication professionals. The awards are presented to any individual or organization that demonstrates unparalleled talent in web, print, visuals, audio, web materials and programs.
The 2012–2013 community report was dedicated to the Town of Newmarket's recent achievement of being ranked as the tenth best city to live in Canada out of more than 200 cities across the country. The national survey was conducted by MoneySense Magazine this year.
In celebration of Newmarket's success and community spirit, the annual report was attributed with unique design elements. It features distinctive printing treatments including gloss UV finish with matte lamination, captivating photography from around the region, circular artistic elements and clever typography while adhering to the town's brand and identity.
"The inspiration behind this annual report design comes from the community we live in," says Rob Clark, owner of RC Design. "While annual reports can sometimes be daunting to digest, this year's report is easy to read, inviting to the reader and touches upon all the aspects of why Newmarket is such a great place to be. The design has really brought all these elements to life."
The MarCom Awards are arbitrated and administered by the Association of Marketing and Communication Professionals. This year, over 6,500 entries were received from Canada, the United States and around the world.
About RC Design
RC Design Inc., located in Newmarket, is an award-winning web design and creative agency that combines the power of technology and creative design. For nearly 15 years the business has been entrenched in the communities of York Region and the Greater Toronto Area to deliver powerful results to clients from Toronto, to Napa Valley, to Vancouver. Whether collaborating with leaders in the global financial industry or with first time business owners of a local cupcake bakery, or with not-for-profit organizations, RC Design has only one goal: to produce compelling creative solutions that provides impact and delivers.