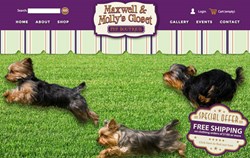 Our ecommerce experts analyze your business requirements to determine the best solution for your business. We either design a custom ecommerce application or customize PrestaShop to meet your needs. - Cherie Collins, Stellaractive President
Portland, OR (PRWEB) December 19, 2013
Leading Portland web design firm Stellaractive today announced the launch of two new cutting edge eCommerce websites featuring the easy to use, flexible and affordable PrestaShop shopping cart system. PrestaShop makes it easy for businesses to manage their own online store, easily add and remove products and track inventory.
The recently completed eCommerce websites are for award-winning Oregon coffee roasters K&F Coffee Roasters and New Jersey-based pet boutique Maxwell & Molly's Closet can be viewed at: http://www.kfcoffee.com and http://www.maxwellandmollys.com.
Stellaractive prefers PrestaShop over other ecommerce options because it is more affordable, flexible, and offers an easier to navigate interface.
"When a standard shopping cart does not work for your business, you need either a custom shopping cart or an open source shopping cart that can be altered to manage your business rules," said Cherie Collins, president of Stellaractive. "Our ecommerce experts analyze your business requirements to determine the best solution for your business. We either design a custom eCommerce application or customize PrestaShop to meet your needs."
Stellaractive eCommerce experts develop websites from beginning to end—including a customized design, branding, importing and set up of inventory and managing complex requirements around shipping rules, taxes, discounts, multiple store installations and management of items for wholesaler, distributors and the public.
"We are committed to helping companies develop the best online store for their business," said Collins "which includes analyzing the performance of the website over the first few month to optimize the users experience and increase online sales."
For more information on website design services with Stellaractive or a quote, go to http://www.stellaractive.com, info(at)stellaractive(dot)com, or call 503.384.2413.
Stellaractive is a leading web development agency located in Portland, Oregon. Specializing in content management systems, eCommerce, and custom web applications since 2007, Stellaractive has launched hundreds of small and medium size business websites. Dedicated to customer service and quality web development, Stellaractive is known internationally as a world class and trusted web developer. The company is also the creator of the online personal business card, mCard.me and do-it-yourself websites, HomeSpunWebsites.com.