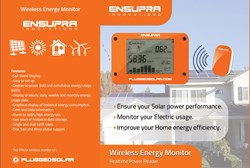 'It is easy to track the electrical power consumption and solar power generation, siting anywhere in your home,' says Ajay Choudhary, President of EnsupraSolar Llc.
Houston, TX (PRWEB) December 19, 2013
Ensupra Solar LLC, manufacturer of PluggedSolar, announces its new innovative product release. It is electrical power monitoring system for the solar power systems for residential and commercial buildings. It has wireless handheld display. The display device can be put at any place inside the building.
Ensupra Wireless Energy Monitor has following major functions:
1. Ensure the solar power generation performance
2. Monitor the electric usage of a building
3. Improve the energy efficiency of a building by power monitoring
Features:
-Self Stand Display.
-Easy to set up.
-Display of power (kW) and cumulative energy usage (kWh).
-Display of hourly, daily, weekly and monthly energy usage data.
-Graphical display of historical energy consumption.
-Time and Date information.
-Alarm to notify high energy use.
-Two years of historical data storage.
-Single and dual tariff rates.
-One, two and three phase support.
ABOUT ENSUPRA SOLAR
Ensupra Solar Llc is a USA based multinational solar power corporation that focuses on appropriate innovative renewable energy products with an aim to solve energy and environment issues of the world.
Its major product, PluggedSolar,™ is a DIY kit that typically installs in one day. It plugs into the regular wall socket as one plugs any appliance. The DIY kit is pre-configured and pre-wired system that reduces the cost of solar, making the installation simple, saving the homeowners more than half of the typical solar installation cost.