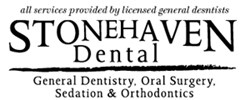 Salt Lake CIty, Utah (PRWEB) December 18, 2013
It almost seems counterintuitive to utilize outdated systems and methods of doing things when such advanced technology is so readily accessible. Rather than remaining behind with pen and paper techniques, Stonehaven Dental has embraced new patient forms that are accessible online. By having these forms available to patients ahead of time, they eliminate the need for droll waiting time and much of the confusion and frustration that usually accompanies the waiting rooms of any of the dental offices in Utah. This technology is a wonderful way to not only stay updated on the latest ways to conduct business and medical care but also will prove to the patients that their health and wellbeing is the foremost priority. Stonehaven does not see the need for making them wait for annoyingly large periods of time, so they simply put the sometimes time-consuming forms online so to completely eradicate the need to wasting time and effort filling them out in the office.
As a company and medical care provider, Stonehaven separates themselves from other dentists in Salt Lake City in the sense that they continually find new ways to prove to their clients and patients that their health and wellbeing is the absolute first priority. By putting patient forms online, they recognize and appreciate their patients' valuable time. They aren't a company that puts their own needs first; since they are also a medical care provider, they are always choosing to value their clients more.
Stonehaven Dental is constantly distinguished from among the other dentists in Utah for their visible commitment to the needs and desires of their patients and clients. None of the other dentists in Salt Lake City have embraced technology to further their patients' wellbeing as much as Stonehaven has. Putting patient forms online is a relatively simple maneuver, but also a very effective one. With the paperwork already filled out and ready to go, there will be no need to wait in the office for more than is absolutely necessary. In this convenient manner and with many tactics like it, Stonehaven continually exhibits an undying need and desire to satiate the professional needs of both new and returning clients. For more information, visit their website at http://stonehavendental.com/.