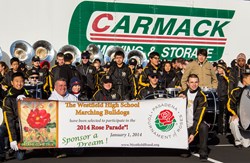 This is something I really wanted to help them out with.
(PRWEB) December 18, 2013
The 275 members of the Westfield High School Marching Bulldogs already are packing their bags for Pasadena for their appearance in the Rose Parade® on New Year's Day. Why so early? Their instruments, uniforms, luggage, show props and other equipment are making the cross-country trek before they do, thanks to a generous donation from Carmack Moving & Storage of Centreville, Virginia.
On Friday, December 20, at approximately 10:00 a.m. EST, band members, staff and chaperones will load Carmack's 53-foot tractor-trailer in the Westfield High School parking lot with everything needed for the trip so that Pasadena-bound Bulldogs only will require simple carry-on bags for their flights, substantially reducing travel costs.
Carmack Moving & Storage has a reputation for supporting many organizations and activities in the community. "We're doing this for the kids," says the company's president, Rob Carmack, of his decision to provide the truck and crew for the band's trip to the Rose Parade. "They have an opportunity to experience something exciting – the reward of what they've been working so hard to accomplish – so this is something I really wanted to help them out with."
Indeed, Carmack's contribution is substantially helping to offset the cost of transporting the band's gear across the country. The value of renting such a truck and hiring a crew to make the 5,200-mile round trip is $35,000. Carmack – who is driving the truck himself – anticipates the journey will take about four days each way, weather permitting.
The loading of the truck on December 20 will cap off 15 months of preparations by the Marching Bulldogs for the Rose Parade. Their efforts will culminate with their triumphant, 5 ½-mile-long march down Pasadena's Colorado Boulevard on New Year's Day, when they deliver their program of "Dreams Come True March," a "Patriotic Parade" sequence, and "Dynamite."
The parade airs live at 11 a.m. EST on January 1, 2014, on HGTV and the Hallmark Channel (commercial-free) as well as locally on WJLA (Channel 7) and WNBC (Channel 4). The Bulldogs are scheduled to appear on television at approximately 12:00 p.m. EST immediately before THE VOICE float. For a listing of parade participants and their order of appearance, visit: http://www.roseparade.net/paradeOrder.asp.
Westfield is one of only 12 high school bands to be selected for the 2014 Rose Parade and is only the third Virginia public high school to march in the Parade in its 125-year history. For more information, to donate, Facebook and Twitter links, or to follow the band during the trip visit http://www.WestfieldBand.org.