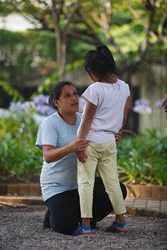 Parenting with Love and Logic will give them a trustworthy way to turn those mistakes into opportunities for the child's growth. - Heather Radu Founder
Guatemala City, Guatemala (PRWEB) December 20, 2013
Forever Changed International is pleased to announce the launch of Parenting with Love and Logic at Dorie's Promise Guatemala. Parenting with Love and Logic is a program designed to assist our special moms as they help our children grow up to be healthy in every aspect of their lives.
President and Founder of Forever Changed International Heather Radu says the program is exactly what Dorie's Promise Guatemala needs to put both the children and the special moms in a position to succeed.
"As children get older, they will naturally make mistakes," Heather says. "Sometimes they make the same mistakes over and over again, which can be incredibly frustrating. Our special moms handle these situations very well, but the training provided in Parenting with Love and Logic will give them a trustworthy way to turn those mistakes into opportunities for the child's growth."
This program includes multiple training methods. Not only will the special moms will benefit from training in a classroom setting, they will also do readings, which they will have the opportunity to discuss during their own "book club." This will allow everyone to learn as a team and help encourage each other.
Special hands-on training is another vital component of Parenting with Love and Logic. Each special mom will be given the opportunity to put the program into action, while being coached by an experienced instructor in a private, non-judgmental setting. All of this training will be spread over multiple weeks so there will be ample time to master the information and techniques.
The Forever Changed International team is confident that Parenting with Love and Logic will yield growth in their ability to minister to the needs of children who have endured a great deal of suffering in their lives. These children, more than anyone, need a home that can provide a healthy mix of nurturing and firm boundaries. This program will aid them in providing just such a place in Guatemala City.
For further details about Parenting with Love and Logic, visit our blog. You will also find details about how to help defray the expenses required to implement the Parenting with Love and Logic program.
Located in Guatemala City, Dorie's Promise is an orphanage providing full-time care, housing, quality education, and other amenities for up to 40 children. The home operates solely on donations and grants, primarily from sources in the United States. It is operated by Forever Changed International (FCI), based in the metro Portland, Oregon, area. Founded in 2009 by Heather Radu, FCI is dedicated to rescuing orphans and providing them with a safe, nurturing environment. For more information, contact Radu at 360-335-3125 or e-mail heather(at)servewithfci(dot)org.