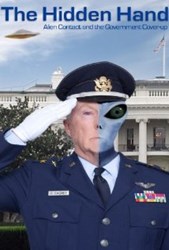 New York, NY (PRWEB) December 17, 2013
The International Film Festival held in Jakarta, Indonesia gave the Award of Excellence- Film Maker of Peace 2013 to James Carman for this controversial feature documentary.
Why did Carman make the The Hidden Hand ? He said, "It was important for me to address one of the ultimate issues of our time. Is humanity being contacted by extraterrestrial beings? If so, why is the government reluctant to talk about it? What is it we're not supposed to know? If you peek behind the curtain and talk to people in the know, it's easy to see something is going on."
James Carman takes the viewer on a journey analyzing topics like alien abduction, human/alien hybridization, the military's reverse-engineering of alien technology and the government cover-up of anything related to extraterrestrials. The Hidden Hand is full of captivating interviews with experts and experiencers including Whitley Strieber, Dr. Edgar Mitchell, the 6th astronaut on the moon, Paul Hellyer, a former Canadian Defense Minister, Richard Dolan, Jim Marrs, Linda Moulton Howe, Col. John Alexander, Lyn Buchanan, Clifford Stone, Nassim Haramein, David Icke, Dr. Roger Leir, Graham Hancock, and Paola Harris, among others. The shadowy world of UFO's is unveiled through this feature documentary.
The film has received many awards including the EBE award for Best Documentary Film at the International UFO Conference 2011, Best Documentary Film at Phillip K. Dick Film Festival 2012, Best Documentary Film For Aliens To Zombies Film Festival 2012, and the Award of Excellence at 2013 The Indie Fest. This is Carman's first feature length documentary.
Please visit The Hidden Hand to learn more about screenings of this award winning documentary.
You can view The Hidden Hand on any of your devices by visiting Google Play, iTunes, Amazoninstant, Xbox, Vimeo or Vudu.
The DVD will be released in stores through MVD Entertainment on January 21, 2014.
About James Carman:
James Carman lives in New York City and works as a producer and a cinematographer. He shoots features, commercials and documentaries and his work has been showcased at the MoMA, and Cannes, Sundance, the Toronto and Berlin Film Festivals. Currently he is working on a new documentary entitled, Superconscious.