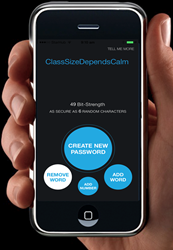 Tigerspike has taken a proactive stance to provide tools to protect both individuals and enterprises.
(PRWEB) December 18, 2013
With hackers recently accessing almost two million usernames and passwords from social media accounts, (CBC News), Tigerspike is taking action.
In a Juniper Report earlier this year, it stated that mobile malware has skyrocketed 614% from March 2012 thru to March 2013. As hackers use long lists to easily guess passwords, they can then reverse engineer the encryption that is protecting them. What is the solution?
Tigerspike, a global enterprise software and user experience technology company, is helping customers unlock the power of Personal Media technology, securely. Tigerspike previously released Karacell, a quantum-resistant mobile encryption technology, and now kPass, a secure password generator, designed to protect individuals and organisations against hackers and identity fraud by creating passwords with known mathematical strength, that are also easy to remember.
"As CEO's and CIO's rely on Personal Media technology to remain competitive and the increase use of mobile and tablet applications in personal and work life, Tigerspike has taken a proactive stance to provide tools to protect both individuals and enterprises. So often we have seen companies focus on building really high walls around their information, but leave the gate wide open! Version one of our kPass application is one piece of a larger security puzzle," adds Luke Janssen, Group CEO, Tigerspike.
Creating strong passwords of truly random numbers, characters, and symbols is challenging for humans. Tigerspike's Future Technologies Division has used mathematics to create a solution that is unique in the market. The kPass algorithm can calculate the bit strength of passwords made up of words and combinations of words, by understanding the probabilities of words and combinations of words occurring in the English language. There are many other pieces of the puzzle but the password piece, the front gate, is now more secure. The technical detail is covered in the application and more information on passwords and how they are created is covered in Tigerspike's blog, "Almost any password you pick is weak".
Version one of kPass is free to download enabling the creation of stronger passwords and close the first step in identity fraud.
As identity and security become high on our agenda in 2014, Tigerspike will continue to develop solutions that combat these concerns.