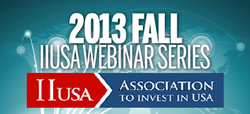 Industry education is a core function and responsibility of IIUSA.
Chicago, IL (PRWEB) December 19, 2013
The Association to Invest in the USA (IIUSA), the national not-for-profit industry trade association for the EB-5 Regional Center Program (the "Program") concluded its four-part Fall Webinar Series on December 17 with an informative review of the EB-5 Regional Center industry in 2013 and a look ahead to what to expect in 2014. Over the course of the webinar, panelists including K. David Andersson, President, IIUSA; President, Whatcom Opportunities Regional Center, Peter D. Joseph, Executive Director, IIUSA and Stephen W. Yale-Loehr, President Emeritus, IIUSA; Of Counsel, Miller Mayer LLP touch upon industry accomplishments from a record-setting past twelve months, which saw an increase in EB-5 visa usage for a third consecutive year and the most foreign direct investment in Program history. Additionally, panelists examine administrative developments, the legislative outlook and potential retrogression for the EB-5 Visa category and how all of these developments affect EB-5 investors, project developers, and Regional Centers.
"Industry education is a core function and responsibility of IIUSA," said Peter D. Joseph, IIUSA Executive Director, "This webinar series has fulfilled that responsibility, ending with an important look at all of the many moving parts in the EB-5 Regional Center industry. We are excited to be offering one webinar a month in 2014 to improve on our online education activities in 2013."
This webinar is the culmination of the IIUSA Fall Webinar Series, which offers guidance to EB-5 industry stakeholders on crucial topics such as financing, immigration and compliance. The first webinar, titled "Tools for EB-5 Due Diligence" examines the necessity for immigration and financial due diligence and how to implement sound procedures throughout the EB-5 process. Part two of the IIUSA Fall 2013 Webinar Series, "Bridge Financing & Escrow Options," thoroughly considers the options for financial structuring available to EB-5 projects. The third webinar served as a practical workshop for how to approach Regional Center I-924A filings which must be submitted on an annual basis with the US Citizen and Immigration Services (USCIS) to demonstrate continued eligibility in the Program as a Regional Center.
Each 90-minute webinar is available through IIUSA's OnDemand portal, via IIUSA Marketplace online. Here, you can order and view IIUSA webinars, videos and other select multimedia presentations. Attorneys looking for continuing legal education (CLE) credits can obtain such credits by attending these events. The registration fee is $150 per webinar while IIUSA Members enjoy a 50% discount.
IIUSA has announced its plan for a monthly webinar in 2014 with sponsorship opportunities now available to IIUSA Members. Upcoming topics include EB-5 Industry Advocacy, Securities Laws & EB-5, USCIS Adjudication Trends, EB-5 Economics and much more. Interested parties can visit the IIUSA Marketplace to learn about benefits and become a sponsor today.