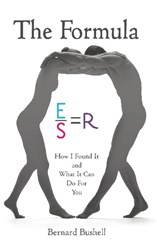 "The Formula is an original and engaging consideration of love and marriage that provides hope,help, and fresh new ideas." Margaret Boe Birns, Adjunct Assistant Professor, New York University
New York, NY (PRWEB) December 19, 2013
In his new book "The Formula, How I Found It And What It Can Do For You" Author Bernard Bushell has created a formula for relationship: E over S equals R. The E Is for Ego, the numerator (men), and the S for Security, the denominator (women), with R for Relationship. His premise is that women must support the man's ego for a relationship. His mantra is to improve relationships, avoid divorce and prevent confused children, which can last for generations.
The book has been endorsed by Dr. Sharna Striar, a Park Avenue Sex therapist, and Dr. Matilda Cantor, a former Board member of the American Psychological Association, as well as other professionals.
This is the first time, according to the author, that there has been a simple road map for understanding relationships. As simple as ABC; only this formula is E over S equals R.
The book is available on Amazon, B&N and Author House.com. It is soon to be released on the Kindle.
In his own life, the author was married for eighteen years, fathered three children, and single for fourteen years, during which time he dated fifty women trying to understand the role of the sexes. This is a problem, he says, that leads to misunderstandings and divorce.
He also cites his experience as the owner of seven ladies wear stores, where he employed over a hundred saleswomen and catered to thousands of customers. "This experience taught me much about the opposite sex." He also says that while managing a thousand apartments in the real estate business, he primarily dealt with women; the experience was an eye opener.
According to Dr. Striar, "The Formula is an inspiring guide for young people trying to find their own formula for happiness in today's world."
Author Bernard Bushell has found the secret formula for relationship much like Einstein found a formula for relativity. He states that the woman must support a man's Ego for there to be a relationship; and in exchange he must provide her with emotional Security.
What drove him to write the book and create The Formula? "I was lying in bed one morning wondering why more than half of marriages end in divorce, upending children for generations, caught in the crossfire," his own included. He also answered the question of why his second marriage of twenty years is so successful. "Knowing what a woman wants is paramount to a couples happiness."
"What helps," according to Dr. Mathilda Cantor, "when a couples get into trouble in a relationship: a qualified psychologist."
Women are not given enough credit for managing the relationship, the denominator in the formula. They have different brain cells and can multitask, whereas a man has much more difficulty.
Most couples, even newly marrieds, or people just dating, misunderstand the Ego/Security dynamic. It is the crux of the problem that get the sexes in trouble from the get go or later on in life after the physical attraction or novelty has worn off.
Women beget men and that is where the trouble starts. Men often resent being told what to do by a woman; an ego thing, says the author.