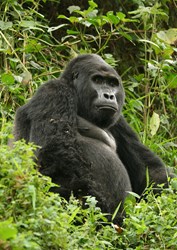 ...just occasionally, a family of these beautiful creatures might make their way right to a visitor's doorstep!
Glendale, CA (PRWEB) January 08, 2014
Gorilla tracking is one of the most unique and memorable wildlife experiences a traveller can have. Deep within Bwindi Impenetrable Forest, tight-knit communities of mountain gorillas make their home. Treks to see the gorillas require a permit and can last several days. But just occasionally, a family of these beautiful creatures might make their way right to a visitor's doorstep!
These encounters have become a common occurrence at Sanctuary Gorilla Forest Camp, a luxury camp in the heart of the Uganda rainforest. It's also the only camp to be found within Bwindi Impenetrable Forest National Park. The gorillas typically come to visit 4-6 times a month, and the occasional lucky guest has enjoyed a rare wild gorilla encounter up close.
Besides its frequent gorilla visits, Sanctuary Gorilla Forest Camp offers accommodation as attuned to its environment as it is to the needs of its guests. Eight luxury tents overlook the jungle, each with a hardwood floor, bathtub and comfy bed. A separate bar and dining cottage offers dinner under the stars.
Right now, Goway is offering US$150 off the price of a gorilla tracking permit (usually US$500) for guests staying at Sanctuary Gorilla Forest Camp. Valid dates include January 1 to March 31, June 21 to October 31 and December 16 to 31, 2014.
The package includes three nights accommodation, return airport transfers, all jeep transport, local guides, Batwa tribe experience or community or forest walk, laundry, meals, and one gorilla permit. Prices start at US$3381 or C$3512. The trip can be taken on its own or as part of a longer Africa tour.
Since 1970, Goway has been providing unforgettable travel experiences to Africa, Asia, Australia and New Zealand, idyllic island destinations and Latin America. Today Goway is recognized as one of North America's leading travel companies for individuals, families and groups to select exotic destinations around the globe. Goway has offices in Los Angeles, Vancouver, Toronto, and Sydney (Australia).
For reservations and information, visit http://www.goway.com, call your Travel Professional or 1-800-387-8850.