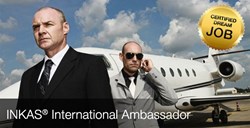 Where Luxury Meets Security
Toronto, Canada (PRWEB) December 18, 2013
It's no secret that many of us have daydreamt about the notion of living our lives like the rich and famous we see on TV. We yearn for life's topmost luxuries such as travelling the world in the utmost of comfort, dining in lavish restaurants, staying in 5-star hotels and associating with affluent circles. While this will remain nothing but a dream to some, Toronto-based INKAS® Armored Vehicle Manufacturing is looking to make this a reality for a select few.
INKAS® specializes in the manufacturing and distribution of armored vehicles to its VIP clients the world over and they're currently on the hunt for International Ambassadors – a unique career opportunity for those who want to change their life overnight and make a great living while they're at it.
The position is hinged on personally overseeing of the delivery of INKAS® bulletproof cars to its international clients. The ambassador will escort the armored vehicle to both international financial capitals as well as zones of heightened security risk all while working under one single directive – ensure the VIP customer's 100% satisfaction. As these clients are typically at the upper echelon of their respective social as well as financial realms, creating an atmosphere conducive towards a maximal customer experience requires a tactful and unique approach, as well as a hefty expense account.
So if meeting with dignitaries, celebrities, pro athletes and political leaders while delivering top-tier luxury armored vehicles is something you'd like to make a living doing, the career application is only a click away.