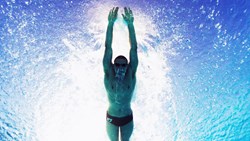 These swimmers have experienced such great improvements that we expanded our consultation services to include two more coaches, Richard Hall and Amy Hall
Florida Keys, FL (PRWEB) December 18, 2013
The Race Club's new website launched this week. The new layout and design makes for a clearer and more succinct website.
In addition to launching the new site, The Race Club has expanded their unparalleled online coaching services. Using video, email and Skype, coaches train swimmers around the world in all 5 disciplines of the Race Club; swim training, strength training, mental training, nutrition and recovery.
"We have swimmers that we consult with on a monthly basis by analyzing their swimming from videos, Skyping with them face to face, and emailing whenever they choose. These swimmers have experienced such great improvements that we expanded our consultation services to include two more coaches, Richard Hall and Amy Hall" says Gary Hall Sr., director and head swimming technician.
Swimmers can get one swim video analyzed or they can sign up for a monthly consultation, requiring 4 months commitment. This feature is easily found under Coaching Services on the new website.
The Race Club is known for their swim video content that is of the highest quality. The cinematography stuns the millions of viewers as well as the swimming technique information from a scientific perspective. The videos now load very quickly and the HD quality is seamless in large format on any screen.
The new website showcases the quality of videos and photographs The Race Club produces in a beautiful, clear light.
For more information, please visit: http://www.theraceclub.net.
About The Race Club:
Established in 2003, The Race Club is directed and coached by Dr. Hall, a three-time Olympic medalist (1968, 1972, and 1976). Dr. Hall draws on his many years of being an ophthalmologist for his bio-mechanical approach to understanding and coaching the fundamentals of fast swimming techniques. The Race Club offers five swim camps year round for swimmers to come and practice with the best to improve their technique. For more information please visit theraceclub.net or call 877-SWIM-RACE.