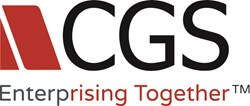 New York, NY (PRWEB) December 18, 2013
Merchant Warehouse®, a leading provider of payment technologies and merchant account services, today announced a new partnership with CGS, a leading global provider of technology solutions. Through this partnership, CGS will implement Merchant Warehouse's Authorize.Net Payment Gateway to deliver a more cost-effective and secure credit card processing solution to its customers in a real-time, online environment.
CGS provides technology solutions to customers in more than 20 countries that span a variety of industries, including retail, apparel and financial services, among a number of others. For more than 30 years, CGS has provided its customers with an integrated portfolio of technology solutions that drive business transformation and improve operating performance. Two of its leading solutions – BlueCherry® and Threadvine™ – provide its customers with the ability to streamline processes, gain visibility, reduce costs, increase productivity and more deeply engage customers through a variety of channels.
"The simultaneous evolution of technology and the consumer's shopping experience has led to a significant demand in completing purchases online. Because of this, we needed to find a solution that could be easily integrated into our product suite and would allow our customers to complete transactions through any device. Merchant Warehouse really stood out as the best when it comes to delivering a reliable and cost-effective payment gateway solution," said Paul Magel, President of the Application Solutions Group, CGS. "Not only does Merchant Warehouse have an unmatched reputation, but the technology it brings to the table meets each of our customer's requests, especially around affordability and web-based reporting functionalities. We're thrilled about the partnership and look forward to ways we can continue to deliver our customers with cutting-edge tech solutions."
Authorize.Net is an e-commerce payment gateway solution that gives merchants the ability to authorize, process and manage credit card and electronic check transactions in a real-time, web-based environment. Combined with BlueCherry and Threadvine, CGS will enable customers to achieve PCI compliance with an integrated credit card processing solution that offers insight into any transaction, whether processed through a traditional website or via mobile device, and provides visibility to both solutions.
"We're dedicated to delivering innovative and reliable payment technology solutions to merchants of all sizes to help them more effectively and efficiently run their businesses," said Henry Helgeson, CEO, Merchant Warehouse. "A big part of that is ensuring they can easily accept credit and debit cards and do so in a way that makes the most sense for their business and their customers. CGS mirrors these priorities, making them a great partner for us."
For more information on Merchant Warehouse's payment technology solutions, visit merchantwarehouse.com.
About CGS
For almost 30 years, CGS has enabled global enterprises, regional companies and government agencies to drive breakthrough performance through technology and services. Headquartered in New York City, CGS employs more than 5,000 professionals across North America, Latin America, Europe and Asia. With global delivery capabilities, expertise across leading platforms and deep experience in multiple industries, CGS has become the IT partner of choice for thousands of organizations worldwide. CGS delivers a wide array of proprietary and third-party business applications, technology, business services and business process outsourcing solutions, including customer care, technical support and corporate learning and training. For more information, please visit http://www.cgsinc.com and follow us on Twitter at http://www.twitter.com/cgsinc as well as Facebook at http://www.facebook.com/ComputerGeneratedSolutionsInc.
About Merchant Warehouse
Merchant Warehouse is a leading provider of payment technologies and merchant services. The company's solutions enable merchants to more effectively connect and engage with their customers regardless of how, where or when they choose to shop. Merchant Warehouse's flagship technology solution, the Genius™ Customer Engagement Platform™, supports both traditional and new payment types, including mobile commerce, from a single countertop acceptance device.
Merchant Warehouse offers innovative payment solutions that help online and brick-and-mortar retailers, as well as point-of-sale (POS) developers, value-added resellers (VARs) and agents, strategically grow their business. Merchant Warehouse is one of the fastest growing payment technology companies in North America.
Contact: marketing(at)cgsinc(dot)com
For more information on Merchant Warehouse:
Erica Orthmann or Kristin Allaben
617-945-1915
genius(at)launchsquad(dot)com