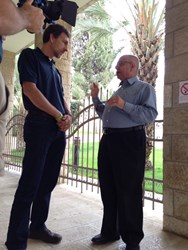 Priests are busy these days. They need help.
Indianapolis, IN (PRWEB) December 19, 2013
Not long ago, Tekton Ministries served as a Catholic pilgrimage provider offering 20-30 trips per year to shrines throughout the world. Tekton also served as a non-profit business manager and public relations resource for the Franciscan Foundation for the Holy Land (FFHL) and continues to do so. But all of that has just changed.
Recently, Tekton expanded its outreach to include other Catholic, non-profit businesses. Richard Sontag, owner and founder of Tekton Ministries said, "We really see what we do as a ministry. We want to embrace the new evangelization and we see our business as a way of doing so."
Sontag knows the job cannot be done alone. In the last year he hired employees to handle both public relations and media production. And the response to his business has been a positive one.
"At this time last year," says Sontag, "we had very little social media impact." Tekton supported websites for itself and the FFHL as well as Facebook pages for both. "Today, we're much more involved and more capable of serving the needs of Catholic non-profits." Why Catholic? Why not expand his outreach even more to non-Catholic, non-profits?
"Honestly, I love priests," Sontag said with a gleam in his eye. "There was a time in my life I thought about seminary. My vocation was to be a husband and a father but I never lost my love for the priesthood."
Mr. Sontag went on to say, "Priests are so busy these days. They need help. One of the ways we know we can help is to handle social media for them. So many priests want to embrace the technology side of the new evangelization but just don't have the time nor resources. But we do. That's our ministry. We want to get the word out there for them on social media." His employees agree.
Media production director, Nik Sternhagen has already created six videos in his short time at Tekton. Ranging in length from 30 seconds to 22 minutes, Nik says that video production is key to Tekton's expanded outreach to Catholic non-profits. "A picture speaks a thousand words, and a video is a thousand pictures," he said.
It's not just business for Nik. It's personal. Sternhagen who, like Sontag, spent time in thinking about the priesthood- even going to seminary- reflected, "Using this medium of visual story-telling to help the Church has been a dream of mine all my life. Now I have the opportunity to do that with the media outreach of Tekton Ministries." He's not the only one who recognizes the importance of this new outreach for Tekton.
Deborah Roberts, has worked for Tekton Ministries for more than seven years. She sees the expansion as a step in the right direction. "We have done so much work to develop our skills in the area of public relations and marketing. And we're Catholic. It makes perfect sense, really," she said.
"We can now offer priests and parishes our expertise which helps them to focus their attention on sacraments, worship and pastoral ministry. That's what they're about. And Catholic social media for non-profits is what we're about." The expansion took on a personal note for Roberts as well.
"My deep desire is that priests would be able to effectively dive into sacramental ministry. It's something they can do that nobody else can. If I can help them do less of the administrative duties, like marketing and public relations, well then that makes my day." Her voice breaks as she finishes. Personal indeed.
Now with six employees, Sontag feels more confident in his vision for expansion. "We're using Pinterest, Twitter, Facebook, Google+, YouTube, blogs, LinkedIn, Constant Conact and so many other social networking sites." The numbers don't lie.
Tekton Ministries has helped the Franciscan Foundation for the Holy Land develop thousands of Facebook likes Facebook likes, hundreds of Twitter followers and a Pinterest page full of photos and videos from the Foundation's fourteen projects and programs. "It's been just a few months since we've established our accounts and it's obvious to me that there has been a great response from Catholics and non-Catholics alike." All of this while growing Tekton itself.
Less than a year ago, Tekton only had 25 Facebook likes; there are now over 7,000. "That's a huge increase," Sontag said excitedly. "Twitter did not exist. Now we have hundreds of followers," he continued with a high-pitched voice. "And Pinterest, forget about it," he laughs. "We may only have 87 followers so far but we put over 1,800 of the most beautiful photos of pilgrimage sites in the world on our boards and have re-pins everyday!"
Not wanting to experience too many growing pains, Tekton's director does not want to expand imprudently. Sontag wants to grow his company and add more employees but also realizes the fine line between adding employees and adding business. We need more employees to handle growth," he said, "but we also need more business to afford the new employees we want." Either way, it seems like a good problem when one takes into account that there are less priests, more Catholics and a faster-paced world.
Blog and contact information for Tekton Ministries can be found at http://www.tektonministries.org .