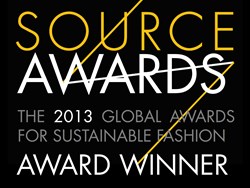 Fashion worth wearing, worth supporting, worth talking about.
London (PRWEB) December 20, 2013
A leading California company with a strong sense of social responsibility has won the Womenswear Category at this year's Source Awards. These awards, sponsored by The Ethical Fashion Forum, are given to acknowledge the outstanding contributions of companies which show leadership in supporting fair trade, eco products and great fashion.
Indigenous, the global winner of the Womenswear Category, creates clothing and accessories for men and women using organic cotton, alpaca, silk and soft merino wool and dyes that are environmentally friendly. Over 1500 artisans in South America work with these materials using skills passed down through generations to create beautiful contemporary fashions for a growing western mass market.
Indigenous' founders, Scott Leonard and Matt Reynolds, admired the culture, the workmanship and ancient materials they found in rural areas of South America but abhorred the poverty they saw. They decided to help the local artisans receive international exposure by bringing this hidden world of fashion to a much larger market and provide a decent wage for the artisans and their families. They also wanted to build a professional brand that can produce and sell clothing that does not harm people or the planet. In 1994 they started a small company by organizing a few women's knitting groups to produce sweaters. Today through their partnership with eight such co-ops, Indigenous has grown to support over 1500 artisans. Their fashions are available in America, Canada, and Japan in specialty stores under their own label, and in major chains under other brand labels as well as online at Indigenous.com.
While Indigenous has been busy transforming lives through its business, it has become a role model for other eco-companies wanting to protect the environment and honour their workers. It is either a founding member or is deeply involved in many councils and working groups in this field.
The Source Awards were announced on Tuesday, December 3rd at a special event hosted by Baroness Lola Young, OBE and Founder of the All Party Parliamentary Group on Ethics and Sustainability at the House of Lords in London to fashion industry representatives at the House of Lords in London.
The Ethical Fashion Forum is the fashion industry's own initiative, founded to support and promote sustainable practices, protect the planet, and counter exploitation such as we witnessed early this year in Bangladesh. To date the EFF has over 8000 members in 127 countries. Winners were selected by an illustrious judging panel including Dolly Jones, editor of Vogue.co.uk, Brigitte Steppittus, Head of Couture at Vivienne Westwood, Summer Rayne Oakes, social activist, eco-model and co-founder of Source4Style, and Amber Valletta, American supermodel and spokesperson for sustainable fashion.