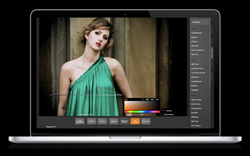 The CameraBag family of apps have well over a million paid users.
New York, NY (PRWEB) December 19, 2013
A major update to the popular CameraBag photo editor for Mac and PC, version 2.5, is now available and free to all existing CameraBag 2 users. The additions further develop CameraBag's innovative approach to photo editing, which combines modern photo filters with the power and fine-grained control of traditional full-featured editors. It's available now at http://www.nevercenter.com/camerabag or via the Mac App Store for $20 USD.
New Features

Updated styles: A massive update to the library of styles included by default in CameraBag.
Nested tiles. Combine or layer multiple effects into a single adjustable tile.
New photo effects including Sharpen, Blur, and Circular Blur.
New advanced color adjustments including Color Temperature, Hue Shift, Hue Brightness, and Hue Saturation.
Custom image borders, using CameraBag's automatic transparency detection.
Closer integration with Lightroom, iPhoto, and other popular photo managers.
Support for user watermarks.
Watch video of the new CameraBag in action: http://nevercenter.com/cb25vid.
About CameraBag
Chosen by Apple as the runner-up for last year's Mac App Of The Year, CameraBag for Mac and PC has been turning heads with its strong design and truly innovative approach to working with photos. The original iPhone CameraBag app made history as the first vintage photo app on the iPhone, and is a previous App Store #1 best seller. The CameraBag family of apps have well over a million paid users.
Key CameraBag Features

150+ built-in high-quality adjustable filters
Full suite of 30+ photographic tools, including advanced curve editors
Build your own entirely new filters from scratch or from existing filters
Elegant, modern interface
Innovative tools not found anywhere else, such as CameraBag's curve-based color corrector
Fast image processing via the revolutionary Analog Engine
32-bits-per-component color depth
Entirely non-destructive editing process
Easy layering of filters and adjustments
Quicklooks and previews for fast visual decision-making
Large, precise controls - works great on a laptop
Watermarking and custom image-based borders
Batch processing
RAW format support* (See FAQs for in-depth information)
A press kit is available at: http://nevercenter.com/press.
For more information, contact info(at)nevercenter(dot)com.