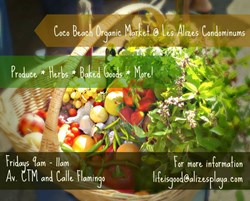 Playa del Carmen was in great need of local market such as this.
Playa del Carmen, Mexico (PRWEB) December 19, 2013
A new organic market has opened in Coco Beach inside of the Les Alizez Condominium complex. The Mercado is located just outside of CTM in Playa Del Carmen's ever growing north end.
Many residents of this area have traveled long distances to get good quality, healthy, local food- but now they can shop right in their own hometown. This new organic market provides a nearby, healthy option for residents who are seeking local organic produce and food items. Tourists and visitors can sample the healthiest of the local foods and get a taste of what organic Caribbean living is really like.
Six venders have committed to the market so far, providing a wonderful variety of healthy homemade foods including vegan and gluten free pizzas and baked items, organic granola, savory tarts, Argentinean empanadas with chimichurri, organic eggs, homemade quiche, potted herbs and sprouts, fresh juices, and much more.
Vender coordinator and Baker Anja Schafer, who has been spreading the word about this new market and organizing the details, is hoping to get more organic produce growers to connect with the market to offer even more organic variety to the market's shoppers. Her goal is to have many venders who consistently offer local, organic vegetables, fruits, leafy greens, herbs, and mushrooms.
"This fills a need that Playa del Carmen has had for a long long time," says Steve Didier, Chief Marketing Officer of American Realty, "Many of the ex pat residents of Playa choose this city because of the many healthy lifestyle options."
Residents of the area and visitors can enjoy all of these healthy local offerings every Fridays from 9 AM to 11 AM. As it gains momentum and more venders join the ranks, more visitors are sure to come every Friday morning to get the healthy foods that they want or need. If you live in or are considering a move to the Playa del Carmen area and love organic produce, then you will not want to miss this wonderful community offering.