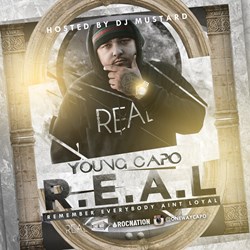 Sacramento, CA (PRWEB) December 18, 2013
Coast 2 Coast Mixtapes announce the release of the "R.E.A.L. (Remember Everybody Ain't Loyal)" Mixtape by Young Capo. The 23 track project is currently available for download. The mixtape is hosted by DJ Mustard and features appearances from J. Gib, Glasses Malone, Calico, Manson, Ace Primo, Lace Leno, Work Dirty, Masspike Miles, Too Short, 2Pistols, Mistah Fab, Young Kell, and TQ.
Young Capo is a Hip Hop artist from Sacramento, CA currently signed to West Coast Legend C-BO. After being on the music scene for a while Young Capo broke his silence on a number of DJ September 7th's "Western Hospitality" mixtapes with his first mixtape, "I Hustle" hosted by Glasses Malone, released in early 2008. Since then Young Capo has been working the industry and sharpening his chops providing a fresh breath of air with his new sound.
The release of "R.E.A.L (Remember Everybody Ain't Loyal)", hosted by RocNation's own DJ Mustard, is a collection of music by Young Capo featuring first ever exclusives by 2 Pistols, Too Short, Mistah F.A.B, Ace Primo, Glasses Malone, and Masspike Miles. This mixtape features an East Coast meets West Coast vibe with it's hard hitting beats and poppy hooks. Young Capo sets the tone with his aggressive delivery on top of highly produced modern production. If you are looking for a mixtape slam packed with features and a radio ready sound this is the mixtape for you. Check out Young Capo on Twitter.
About Coast 2 Coast Mixtapes
Coast 2 Coast Mixtapes are the most widely distributed mixtapes in the world, with over 100 million downloads/plays generated by over 200 volumes officially hosted by major artists. Coast 2 Coast has a solid reach in the new music industry with a digital magazine, DJ coalition, industry tips blog, yearly convention, and more. Coast 2 Coast Mixtapes represents a unique opportunity for artists of all urban genres, from major to indie. For more information, visit http://www.coast2coastmixtapes.com.