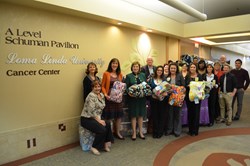 Loma Linda, Calif. (PRWEB) December 17, 2013
Patients at Loma Linda University Cancer Center will enjoy added warmth this year with gifts of blankets, thanks to a joint initiative of Walmart and employees of the Human Resources Department at Loma Linda University Health.
A recent gift of $10,000 from the retail giant allowed the employees to purchase blanket materials that they assembled for distribution to cancer patients. LLUCC officials received the blankets from the employees' and Walmart representatives on Tuesday, Dec. 17.
"We are very grateful to receive these lovingly crafted blankets for our patients," LLUCC Executive Director Judy Chatigny said. "An important part of every patient's treatment is the support that they receive during treatment, and this demonstration of care and love by our HR employees and Walmart will surely make an impact."
Cari M. Dominguez, Senior Vice President of Human Resources and Chief Talent and Diversity Officer of Loma Linda University Health, said, "it was moving to see employees working side by side and giving their own personal time to make these beautiful blankets. They practice what they believe, that true healing includes expressions of human warmth and personal connections. We are grateful to Walmart and feel blessed for their support, which has allowed us to continue to make a positive difference in the lives of others."
Last year, the department employees collected about 200 boxes of canned goods for distribution at the SACHS Clinic in San Bernardino. This is a "clinic we established years ago to provide medical care to underserved, economically-disadvantaged community members in San Bernardino," she said.
"Walmart is proud to partner with organizations like LLUH that fulfill our commitment of helping people live better by providing the ultimate patient care," said Wes Morris, Walmart Market Manager. "By giving a blanket, you provide something tangible that will warm the heart and body, and let the receiver know that someone out there is rooting for them."
Photo Caption: Representatives from Loma Linda University Health, Loma Linda University Cancer Center, and Walmart distributed blankets to patients at Loma Linda University Cancer Center on Tuesday, Dec. 17. The blankets were assembled by employees from the Human Resources Department of Loma Linda University Health, who recently received a $10,000 gift from Walmart to purchase materials for the blankets.
About Loma Linda University Health (LLUH)
Loma Linda University Health includes Loma Linda University's eight professional schools, Loma Linda University Medical Center's six hospitals and more than 900 faculty physicians located in the Inland Empire of Southern California. Established in 1905, LLUH is a global leader in education, research and clinical care. It offers over 100 academic programs and provides quality health care to 40,000 inpatients and 1.5 million outpatients each year. A Seventh-day Adventist organization, LLUH is a faith-based health system with a mission "to continue the teaching and healing ministry of Jesus Christ."
Contact: Herbert Atienza, 909-558-8419, hatienza(at)llu(dot)edu