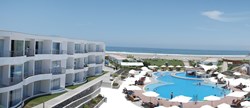 "We're seeing a natural fit between the demands of developers and travelers in South America, and the modern, upscale amenities we offer with our BEST WESTERN PLUS and BEST WESTERN PREMIER hotel types." Suzi Yoder, VP Intl. Operations
Phoenix, Arizona (PRWEB) December 18, 2013
Best Western International has announced plans for rapid expansion in Mexico, Central and South America with 29 hotels in the 2014 to 2015 pipeline. Though growth is strong throughout the region, South America is the hottest area for hotel development thanks to improving economies and Brazil hosting both the 2014 World Cup and 2016 Games in Rio de Janeiro.
Best Western is doing its part to meet the growing hospitality demands in Brazil. The brand currently has 16 hotels operating in the country and is working with a development partner Incortel to add 30 new properties in the next five years. All of these projects will be new construction and fifty percent will be the BEST WESTERN PLUS hotel type. The first of the new Incortel properties, the BEST WESTERN PLUS Pampulha Design Hotel in Belo Horizonte, is set to open in March of 2014 and construction has just begun on an innovative new fashion-themed property that will feature design from leading South American fashion icon Gloria Coelho.
"Brazil is still about 12,000 rooms short to meet the growing demand created by the major upcoming sporting events. You couple that need with an improving economy in Colombia and you have a recipe for rapid hotel growth across the region," said Best Western's Vice President of International Operations Suzi Yoder. "We're seeing a natural fit between the demands of developers and travelers in South America, and the modern, upscale amenities we offer with our BEST WESTERN PLUS and BEST WESTERN PREMIER hotel types."
Best Western currently has two hotels in operation in Colombia and a third, the BEST WESTERN PLUS Mocawa Hotel, will open in late December. The brand anticipates adding between two and four new construction projects annually through 2019. Hotel demand in the country has been spurred by increased political stability and the growth of the coffee, tourism and oil industries. Gastronomy and foodie travel also is a growing trend in Colombia and throughout all of Latin America.
Other hot spots for the brand's Latin American development efforts include Chile and Peru. Best Western currently operates five hotels in Chile and is focused on development in the northern portion of the country. In Peru, hotel growth has been fueled by an increase in tourism dollars and a reduction in sales tax. Best Western has responded with the recent opening of the BEST WESTERN PLUS Vista Pacifico, a 115-room resort property located south of Lima on scenic Sarampampa Beach. The brand plans to have four hotels in its Peruvian portfolio by the end of 2014.
Best Western opened its first hotel in South America in Brazil in 1992 and has since grown to operate more than 37 hotels in seven South American countries – Argentina, Brazil, Chile, Colombia, Peru, Uruguay and Venezuela. For more information on global development opportunities with Best Western International, please visit bestwesterndevelopers.com.
To learn more about a specific hotel or discover other Best Western hotels across the world, visit http://www.bestwestern.com.
ABOUT BEST WESTERN INTERNATIONAL, INC.
Best Western International, Inc. is THE WORLD'S BIGGEST HOTEL FAMILY®, providing marketing, reservations and operational support to over 4,000* BEST WESTERN®, BEST WESTERN PLUS® and BEST WESTERN PREMIER® hotels in more than 100* countries and territories worldwide. Each Best Western-branded hotel is independently owned and operated. Now celebrating 67 years of hospitality, Best Western has grown into an iconic brand that hosts hundreds of thousands each night. Equally committed to the business and leisure traveler, Best Western has embarked on a mission to lead the hotel industry in customer care. World Vision is the charity of choice for Best Western in building the world's biggest family, with our hotels and staff sponsoring children in need around the globe. Our partnerships with AAA/CAA, racecar driver Michael Waltrip, and Harley-Davidson® help guests make the most of every trip. For the fastest way to a free night globally, join Best Western Rewards®. For more information or to make a reservation, please visit http://www.bestwestern.com.
*Numbers are approximate and can fluctuate.