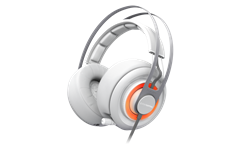 Chicago, IL (PRWEB) December 18, 2013
SteelSeries, the leading global manufacturer of gaming peripherals and accessories, will be celebrating the 10-year anniversary of its Siberia Headset line in 2014; in honor of the celebration, SteelSeries is introducing the Anniversary Edition of the Siberia Elite Gaming Headset. To commemorate the year Siberia was introduced to gamers, there will only be 2,004 exclusive units made available – each with a unique laser-etched unit number on the metal headband.
The all-white Siberia Elite Anniversary Edition headset features subtle differences and anniversary detailing on the inner earcup mesh. At its core, the Anniversary Edition flaunts everything that Siberia Elite has been praised for - amazing comfort, 16.8 million colors of illumination options and immersive, virtual-7.1 Dolby® surround sound. Siberia Elite Anniversary Edition Headset owners will also receive a perfect-fit hard-shell carrying case for storage and travel, as well as membership in the Siberia Elite Anniversary Club, where members will receive exclusive offers from SteelSeries throughout the 2014 celebration.
The Siberia Elite Anniversary Edition headset is available for preorder today for $299.99 with delivery in early January 2014. For more information about the Siberia Elite Anniversary Edition and to see the legacy of SteelSeries Siberia headsets since introduction in 2004, please visit http://steelseries.com/siberia2014.
For more details about upcoming products, events and to be a part of the conversation, be sure to connect with SteelSeries on Facebook and Twitter.
About SteelSeries
SteelSeries is a leading manufacturer of top quality gaming peripherals from headsets, keyboards and mice to controllers, surfaces and software. For more than a decade, SteelSeries has been on the forefront of designing and creating gear for gamers. The company's continued innovation also comes in collaboration with the world's leading professional gaming teams and partners. SteelSeries is a global brand that continues to support the growth of competitive gaming tournaments and electronic sports leagues through professional team sponsorships, partnerships and community support. For more information, please visit http://steelseries.com.