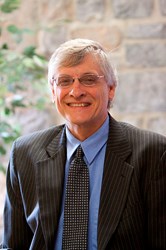 The Mystery of God is a timely book, and their "Book of the Year" award is well deserved. - Rachel Quan Executive Director
Denver, CO (PRWEB) December 19, 2013
Renovaré is pleased to announce that The Mystery of God: Theology for Knowing the Unknowable, co-written by Renovaré board member Chris Hall, has been named "Theological Book of the Year" by Christianity Today. Chris and his co-author, Steven D. Boyer, have given us a volume that humbly approaches God's incomprehensible nature in a way that improves theological clarity.
Rachel Quan, Executive Director of Renovaré, says The Mystery of God serves as a reminder that God is bigger than any of us can possibly understand. While God has certainly revealed much to us, there is much that we will never be able to fully grasp—and there's nothing wrong with that.
"It is good for us to remember that we have not solved all of God's mysteries, nor will we," Quan says. "Chris and Dr. Boyer have given us a gracious reminder of just that. The Mystery of God is a timely book, and their "Book of the Year" award is well deserved.
This scholarly yet accessible book demonstrates that divine incomprehensibility should play a vital role in the work of theology. Hall and Boyer develop three categories in order to provide a foundation for understanding the mystery of God. They examine the biblical text, delve into history, and consider practical living to establish that foundation. They also write extensively on the implications these ideas have for the rest of Christian theology.
We at Renovaré would like to congratulate Chris, and to encourage any pastor, scholar, or theologically inclined layperson to read The Mystery of God. Let it be a help to you as you live the with-God life.
Copies are available for purchase at the Renovaré book store for $17.95. Please visit store.renovare.org today.
Renovaré is a nonprofit Christian organization headquartered in Englewood, Colorado, and active worldwide. The ministry seeks to resource, fuel, model, and advocate more intentional living and Spiritual Formation among Christians and those wanting a deeper connection with God. A foundational presence in the Spiritual Formation movement for over 20 years, Renovaré is Christian in commitment, ecumenical in breadth, and international in scope. Renovaré was founded in 1988 by Celebration of Discipline author Richard J. Foster. To schedule an interview with Executive Director Rachel Quan, please call Joan Skulley at 303.792.0152 or e-mail her at joan(at)renovare(dot)org.