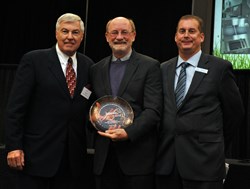 Concord, California (PRWEB) December 18, 2013
Governor Edmund G. Brown Jr. announced that Hilton Concord of Concord, Calif., has won a 2013 Governor's Environmental and Economic Leadership Award (GEELA) for its outstanding commitment to sustainability and the environment. Hilton Concord was the recipient for the GEELA Environmental and Economic Partnerships award and is the first Hilton brand hotel to ever win this award.
GEELA is California's highest and most prestigious environmental honor. This program recognizes individuals, organizations and businesses that have demonstrated exceptional leadership and made notable contributions in conserving our precious resources, protecting and enhancing our environment, and building public-private partnerships.
"Hilton Concord is a true leader in the hospitality industry and their sustainability project was deemed exceptional for its innovative spirit and value to California's environment and economy," said Secretary for Environmental Protection Matt Rodriquez. "Hilton Concord proves that you can support and promote environmental values without sacrificing business objectives. They understand that going green can be a successful economic strategy that can also lead to sustainable growth and development."
Hilton Concord has a long history of supporting sustainability initiatives, but has risen to a level that exceeds expectations and raises the bar for the hospitality industry. As part of the hotel's recent multi-million dollar renovation and based upon recommendations from sustainability consultant Charles Smith with Hotel Sustainability Solutions Inc., numerous new sustainability initiatives were implemented and sustainability focused systems were installed.
Hilton Concord has proven their dedication to sustainability and conserving precious natural resources on every level. From the hotels' cutting edge high-efficiency laundry system that conserves water, electrical power and natural gas, to the diversion of compostable and recyclable materials from the landfill through the installation of a Biodigester, a Pillow Vac and an extensive recycling program. Hilton Concord installed 100% LED and high efficiency lighting throughout, Pelican Wireless HVAC energy management system, solar window film, Eco-flush water saving toilets, Energy Star efficient equipment and Verdafero software to track success.
Additionally, Hilton Concord offers their guests and community one of the largest Electric Vehicle Charging Stations in Northern California and a concept restaurant, Plate & Vine, which serves sustainable locally-sourced and regionally-inspired cuisine.
Jack Hlavac, general manager of Hilton Concord, proudly states, "Our team worked extremely hard to become a sustainability leader in the hospitality industry. Our hotel ownership and management company, Interstate Hotels & Resorts, will continue to be on the forefront of sustainability initiatives. It is a great honor to receive the GEELA award and to be recognized for our dedication to sustainability and the environment."
In addition to winning the 2013 GEELA award, Hilton Concord has won awards and received recognition from The City of Concord, Sustainable Contra Costa, Green Lodging News, Forbes, Contra Costa County Green Business Program and California Green Lodging for their extensive sustainability programs and initiatives. Hilton Concord has active plans to not only continue their current sustainability efforts, but also to implement new initiatives and invest in new sustainable technologies and systems moving into the future.
About Hilton Concord and Interstate Hotels & Resorts:
Hilton Concord is owned and operated by Interstate Hotels & Resorts, the leading U.S.- based global hotel management company. Hilton Concord has 329 guest rooms and over 20,000 sq ft of flexible meeting space. Hilton Concord offers guests and meeting planners one of the newest and most sustainable modern hotels in the San Francisco Bay Area. For more information about the Hilton Concord, visit http://www.concordhilton.com, or call Matt Hohenstreet, Director of Sales & Marketing, at +1 925 349 2609.
About Hilton Hotels & Resorts
Founded in 1919 as the flagship brand of Hilton Worldwide, Hilton Hotels & Resorts continues to build upon its legacy of innovation by developing products and services to meet the needs of savvy global travelers at more than 550 hotels across six continents. Hilton is the stylish, forward-thinking global leader in hospitality with Team Members shaping experiences in which every guest feels cared for, valued and respected. Access the latest news at news.hilton.com and begin your journey at http://www.hilton.com or http://www.hilton.com/offers for the latest hotel specials. View a list of official social channels at http://www.hilton.com/social. Hilton Hotels & Resorts is one of Hilton Worldwide's ten market leading brands.
About GEELA:
The Governor's Environmental and Economic Leadership Awards program was established in 1993. The award program is administered by the California Environmental Protection Agency and the California Natural Resources Agency in collaboration with the State and Consumer Services Agency; the Department of Food and Agriculture; Labor and Workforce Development Agency; the Business, Transportation and Housing Agency; and, the Health and Human Services Agency. For more information on GEELA and this year's award recipients, visit the Cal/EPA Web site: http://www.calepa.ca.gov/Awards/GEELA/.