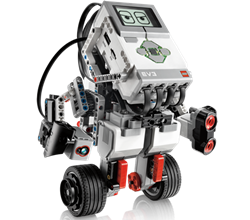 myDAQ is a great way to give students exposure to what potential careers are available.
Oklahoma City, OK (PRWEB) December 24, 2013
techJOYnT Academy is now enrolling for their Spring 8-Week After School Camps. Starting on January 6, 2014 students can learn LEGO Robotics Basics, LEGO Robotics Advanced, and Labview Programming.
Students and instructors alike are getting excited about the Spring Robotics Camps. Not only is this a great time to learn how to create and program robots, but this year techJOYnT has invested in 20 full sets of the new LEGO Mindstorm EV3 kits!
Each kits includes 3 new servo motors, a unique remote control, improved and redesigned color sensors, redesigned touch sensors, a new infrared sensors, and over 500 LEGO parts. Not to be overshadowed, the new EV3 Brick comes equipped with a powerful ARM9 processor, WiFi capability, a microSD card slot, backlit buttons, USB ports, and four motor ports.
Students at techJOYnT will be able to chose which FIRST LEGO League Challenge they would like to build: the Space Challenge or the Green City Challenge. Each challenge comes with a set of objectives and each objective has it's own point value. Students are encouraged to build their own robot and collect as many points as possible. If interested, the students also have the opportunity to join a team and compete in the FIRST LEGO League (FLL)- a competition that is internationally recognized. techJOYnT FLL teams have competed on a local, state, national, and even international levels and have received awards in each category. "It's great to see how excited the students get building and programming robots. I think this is one of the best ways to introduce programming at a young age." says Bryan Sekine, techJOYnT instructor.
techJOYnT is also an authorized training center for Labview Education and teaches courses on electronics and engineering. National Instruments LabVIEW is a graphical programming environment used on campuses all over the world to deliver hands-on learning to the classroom, enhance research applications, and foster the next generation of innovators. With the intuitive nature of graphical system design, educators and researchers can design, prototype, and deploy their applications. Students who use the National Instruments myDAQ will have hands-on exposure to complex subjects such as circuits and electronics, physics, aerodynamics, mechatonics, and mechanical measurements. Using these advanced tools and engaging activities, techJOYnT instructors are able to teach the principles of engineering to a much younger audience. Ray Shaik, CEO of techJOYnT explains, "Using National Instruments myDAQ is a great way to give students exposure to what potential careers are available."
About techJOYnT Academy
techJOYnT delivers curriculum to reinforce traditional Science, Technology, Engineering and Mathematics (STEM) education through 21st century GEAR (Game Design, Electronics, App Development, and Robotics). The organization offers families, students, and mentors the opportunity to learn engineering and entrepreneurship concepts through hands-on robotics and game design projects. Programs are offered at local libraries, community centers, public and private schools, and at techJOYnT Academy's location.