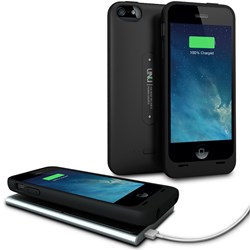 "Wireless charging makes powering mobile devices easier than ever," said Brian Westphal, Director of Marketing and Sales
Union City, Calif. (PRWEB) December 18, 2013
uNu Electronics Inc., a trailblazer in the portable power category, today announced the release of the Aero Wireless Charging Battery Case and Charging Pad for iPhone 5/5S and Samsung Galaxy S4 – providing a wireless charging experience from power supply to battery case.
Featuring an innovative charging design, the Aero wirelessly connects to the micro-USB compatible charging pad to provide an incredibly easy-to-use charging experience without increasing charging times.
As a result, you no longer need to find a cable to charge the battery case or phone directly. Simply place the expandable charging pads in convenient areas at work, home, or in the car and charge via the charging mats. The charging mats are all USB compatible, extremely portable and expandable.
"We designed this battery case system to introduce a new type of charging experience which allows users the freedom of not having to 'plug in'. Now, with the Aero Battery Case, mobile users can simply place the battery case directly on the charging pad without having to struggle to find a cable," said Sen Cai, CEO.
The Aero Battery Case for iPhone 5/5S (MSRP $99.95) is equipped with a 2,000mAh which doubles battery life. The case is also ultra-slim (15mm thick) and provides protection from bumps, scrapes, and drops.
The Aero Battery Case is also offered for the Samsung Galaxy S4 (MSRP $89.95), boasting a 2,600mAh internal battery, and NFC compatibility.
The expandable charging pad (MSRP $19.95) is fully compatible with both models of the Aero and is fully expandable to as many mats as needed. Now colleagues, friends, and family can all share a single charging base no matter if they have a Samsung Galaxy S4 or iPhone 5/5S.
Included with the Aero Battery Case are a charging pad, audio cable extender, and micro-USB to use with the charging pad or the battery case for a direct charge if so desired.
"Wireless charging makes powering mobile devices easier than ever," said Brian Westphal, Director of Marketing and Sales
Availability
The uNu Aero Battery Case and Charging Pad is available online beginning today for $99.95 ($89.95 for Samsung S4) at myunu.com. The product is expected to be available on online retailers including Amazon.
About uNu
uNu Electronics Inc. is a global manufacturer and distributor of mobile-electronic accessories. uNu's unwavering belief in creating innovative designs, delivering reliable products, and providing exceptional customer service have made us one of the biggest leaders in mobile power accessories. Based in Union City, CA with international production facilities, uNu caters to clients on a global scale. For any additional information regarding the Aero Wireless Battery Cases or any other uNu products please visit our webpage at http://www.myunu.com, Facebook at facebook.com/unucases or on Twitter at twitter.com/unucase.
For additional media including press kits and review samples please contact:
Jason(at)myunu(dot)com
Director of Public Relations