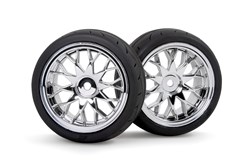 Throughout December, members of the military can save up to $400 of wheel and tire sets and aftermarket rims
San Diego, CA (PRWEB) December 19, 2013
For Members of the Military, San Diego company UsaRim is making it easier to buy rims and tires with no credit check financing and huge military discounts.
UsaRim is proud to sell wheels and tires all over the world but offers special discounts for the military men and women in their hometown of San Diego. The company appreciates the service of these brave soldiers, and through December is offering a 10off coupon code as a small token of appreciation for their efforts on behalf of the country.
Throughout December, members of the military can save up to $400 of wheel and tire sets and aftermarket rims designed to fit leading makes and models from Chevy, GMC & other top brands. Shop our aftermarket wheels and rims, and use our no credit check rims financing to get the look your car deserves, without breaking the bank.
While all wheel and tire sets are available for viewing online, servicemen and women can also take advantage of the company showroom and look at rims locally in San Diego located just outside of Marine Corps Aviation Station Miramar off Caroll Way. It enables members of the military to see what these offerings will look like in the flesh and also affords them the opportunity to speak with staff members regarding any concerns about whether or not the wheels they want will fit their car, truck or SUV.
The UsaRim staff has decades of combined experience in helping buyers find aftermarket rims as well as and wheel and tire sets that fits their needs and budgets. Servicemen and other Southern California residents can contact customer specialists seven days per week about any wheels they are considering or visit the showroom near Marine Corps Air Station Miramar.
Visitors can take advantage of the online catalog at UsaRim.com and use the 10off coupon code good through the rest of December to save hundreds of dollars on their purchase as well as get free shipping, or find rims in San Diego at the showroom at 8925 Caroll way, Suites C/D, Monday through Friday, 8 a.m.-5 p.m.
--------
About UsaRim: UsaRim has built a reputation for providing the highest quality aftermarket wheels, tires and wheel/tire combinations on the market. The company offers rims and tires for Audi, BMW, Cadillac, Chevy, GMC, Mercedes Benz, Porsche, VW, Volvo and more.