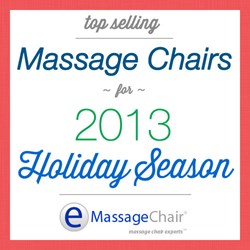 After the huge Black Friday and Cyber Monday shopping weekend, it was very clear what massage chair shoppers were looking for, great deals and a chance to speak with a massage chair expert
Las Vegas, Nevada (PRWEB) December 19, 2013
Shoppers looking for a massage chair have reacted well to a lot of new models put out by massage chair brands in the last few months. Emassagechair has noticed some very interesting trends in what have been the best selling chairs. With the influx of orders over Black Friday and Cyber Monday, it was very clear what consumers were looking for. In short, a wide adoption of new models across brands and different prices did well. Emassagechair being the home of the massage chair experts, has been speaking with shoppers across the country helping them find the chair that fits their needs the best. Below they showcase three chairs that stood out from the crowd and they have a good ideas on why they sold so well.
The Osaki Os-3D Pro Dreamer massage chair which is priced at $6295 saw a wide adoption from people wanting a complete full body massage experience. The chair has a 3D roller, which is industry talk for a fully controllable massage roller. Located in the back of the chair it gives users the ability to change the intensity, change the up and down movements, and the back and forth movements that ultimately give a deeper massage. The OS-3D Pro Dreamer also has a lot of additional features that help complete the therapy experience, like Speakers, Chromotherapy Lights, and Zero Gravity. A chair that was also recently released by Osaki, the OS-3D Pro Cyber did well with shoppers because of its similarities to the Dreamer. While they do have similarities the Dreamer has a noticeably higher quality upholstery and an overall higher quality experience massage experience. The OS-3D Pro Cyber retails for $5795.
Another big seller was the Infinity Iyashi massage chair. This chair was released earlier this year and has gotten wide adoption from shoppers looking for a chair that can massage the buttocks, but also has all the new massage advancements. The Iyashi has a very noticeable contemporary look and incorporates many traditional relaxation features like Zero Gravity, Chromotherapy, and different massage styles. The Iyashi chair is also better for taller users with a higher back and wider seat area. Shoppers have already commented on the ease of use of the chair and the quality of the foot massage. The Iyashi chair is a favorite at Emassagechair because of the smoothness and unique length of the roller stroke. A new color of this chair was recently released, offering an option for Black Interior. The Iyashi retails for $5895. Another bestseller from Infinity is their It-8500 massage chair, which offers deep tissue massage and a full body airbag system. The It-8500 retails for $4295.
Another top selling chair also by Osaki is their Osaki OS-7200h massage chair. Priced in a very attractive price range, retailing for $3795, many shoppers were attracted by the features and the look of the chair. It offers a deep tissue massage roller, full airbag system, and several relaxation features. Following right behind the OS-7200h is the OS-4000. This isn't a surprise to the team at Emassagechair since it has been a top seller for several years. With a very attractive price tag at $2895, it offers a general massage user plenty of features to enjoy from massage to relaxation.
The Holiday Shopping Season is still in full swing and there are still shoppers out there looking for the perfect gift. If a massage chair is what shoppers are looking for they can learn more by reading Massage Chair Reviews, checking out Massage Chair Comparisons, and reading over their Holiday Massage Chair Shopping Guide. Shoppers who visit Emassagechair.com will also find a wide selection of massage chairs, handheld massager's, and relaxation chairs ranging from $1000 to $10,000, depending on the quality and features a person would be looking for.
Emassagechair.com, the home of the Massage Chair Experts invites all shoppers interested in learning more to contact them. They're available by phone at 888.360.9996, by email at support-at-emassagechair.com, or by chatting with them online.
Emassagechair wishes all of its visitors a Happy Holiday and Happy Shopping Experience!