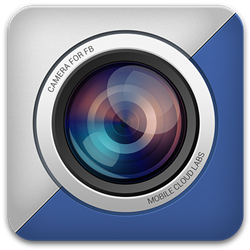 Our goal is to simplify photo sharing...
LONDON (PRWEB) December 18, 2013
Mobile Cloud Labs Plc., developers of high-quality applications for smartphones, handheld devices, and portable computers, today announced that Belynk, the one-step photo solution for Facebook, now supports the creation and upload of 15-second high-definition videos for supported devices. Now Android smartphone users can shoot video and post to their Facebook page instantly.
Adding instant HD video support extends the power of Belynk even further. Now Android smartphone users can not only post Facebook photos with a single stroke, they can also capture high-resolution video and share them with their Facebook friends instantly. Belynk eliminates the multiple steps required for other photo and video sharing apps allowing both pictures and videos to be posted to their Facebook account easier and faster than any other app. Belynk streamlines the process by allowing you to take a video or photo and immediately upload it to a designated Facebook album. With Belynk users can choose which Facebook album they want their pictures to go to; along with this Belynk users can now create videos and chose their privacy settings before upload.
"We are actively working to expand the capabilities of Belynk, starting with this latest feature – the ability to record and instantly upload high definition videos to a Facebook account," stated Richard Sylvester, CEO of Mobile Cloud Labs Plc. "Our goal is to simplify photo sharing and to continue to bring new value to the Android platform with more powerful apps that offer the features mobile users want."
Belynk also allows users to access their albums directly from an Android phone to create and manage photos and videos. Users can create and change albums, and set them as private or public so they can share videos and photos with only friends or family. Users also can designate "Wi-Fi" only for video and photo uploads to conserve cellular airtime. Belynk allows users to take full advantage of all the Android smartphone's built-in camera features, including normal camera mode and burst camera mode for action photos, as well as high-definition videos.
Belynk is available for Android portable devices from the Google Play store and it supports any mobile device running Android version 2.3.3 or later. Since more than one third of Android users are still using the older Android 2.3.3 operating system, Belynk users can be assured that the app will migrate with them when they decide to upgrade their smartphone.
About Mobile Cloud Labs Plc
Mobile Cloud Labs are developers and marketers of high-quality applications for smartphones, tablet computers, and laptops with offices in London and the United States. The company is currently developing new location-based applications booming mobile advertising market, delivering messages with pinpoint accuracy to open up new marketing and point-of-sale strategies. The company is also developing new smartphone users to help them get more from their mobile social media experience.