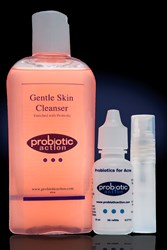 Only Solid Science in Practice
Miami, FL (PRWEB) December 19, 2013
On December 19, 2013, Probiotic Action discussed recently developed mints which are formulated to eliminate specific bacteria which cause cavities from the human mouth.
The blog, published by NPR.org, reports that German microbiologists have developed a sugarless mint that contains the dead bacteria used to fight cavities, or more specifically, the bad bacteria that causes cavities. The particular bacteria in the mints is called Lactobacillus paracasei, which specifically targets the cavity-forming bacteria Streptoccocus mutans. The mints showed immediate though small results, as "the researchers spiked a sugarless mint with the dead Lactobacillus and then had people suck on the candies. Ten minutes later, the researchers measured the levels of the bad bacteria in the volunteers' mouths. They found that the dead bacteria did strip away some of the Streptoccocus in the volunteers' saliva. However, the effect was small and researchers don't know yet how long it lasts."
Probiotic Action spokesperson Fernando Perez isn't surprised by this, and is encouraged about the results. He says, "We know that probiotics make for some of the natural acne treatments, and now we have positive results about using probiotics as a dental preventative. Obviously, these mints will augment good dental hygiene and they are still in development, but the initial results are promising. The most important part of the mints is that they target the bad bacteria in the mouth while not affecting the good bacteria, something that is a key characteristic of using probiotics as a health treatment."
Perez goes on to say, "Probiotics are a natural treatments for many physical conditions and being used to augment dental care is the next step as science continues to progress."
Probiotic Action, a pioneer in using probiotics for acne, follows all probiotic-associated products to collect information in order to help educate the public on the power of probiotics for skin care and overall health. For more information, please visit ProbioticAction.com.