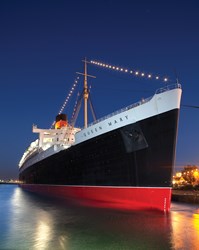 Los Angeles, CA, December 17, 2013 (PRWEB) December 17, 2013
Irvine-based Ubiquity Studios will launch its maiden voyage into feature films with a thriller to be set and filmed on the historic ocean liner The Queen Mary, it was announced today by Chris Carmichael, CEO, Ubiquity Studios. The first in a slate of films for the studio, Ubiquity will finance development and production of the Queen Mary project, while Exclusive Media will oversee international sales for the film.
Gary Dauberman, the talented writer on New Line's "Crawlspace," will pen the film - inspired by the history of the Queen Mary and her legendary hauntings. Dauberman recently wrote Mandate's "Burst," "Hellfest" for CBS Films, and has worked on the "Final Destination" and "Nightmare on Elm Street" movies.
Brett Tomberlin of Ubiquity Studios will produce along with Andrew Trapani and Brian Gilbert of Nine/8 Entertainment. The trio is currently producing the "Winchester Mystery House" film with Exclusive Media.
Slated for a spring 2014 start, the Queen Mary project will be filmed on-location aboard the ship in Long Beach, CA, as well as at Ubiquity's studio in Irvine, CA. Ubiquity's Chris Carmichael and Connie Jordan will be Executive Producers.
"We are excited to bring to life the fascinating story and historical significance of the Queen Mary," said Carmichael. "From her voyages from 1930's as a luxury liner and a war ship, to her current place as a top hotel and tourist attraction, the Queen Mary promises to be a great subject for a dramatic thriller."
Tobin Armbrust, President of Worldwide Production and Acquisitions for Exclusive Media added, "The legend of the Queen Mary is a haunting and timeless story. Our friends at Imagination Design Works and Nine/8 Entertainment are assembling a stellar team to pull the project together. We are delighted to be in business with them on this second film."
"As one of the grandest ocean liners in history, the Queen Mary makes the perfect backdrop for a feature film," said Steve Sheldon, Director of Entertainment Events for the Queen Mary. "She has a rich and storied past full of allure, grandeur, tragedy and secrets, and we couldn't be more excited to be in partnership with both Ubiquity and Exclusive Media."
The deal for Ubiquity Studios was assembled by Dan Black of Greenberg Traurig; for Queen Mary LLC, Marc Simon of Cowan DeBaets Abrahams & Sheppard LLP; for IDW, Alexa Pagonas of Michael Black Management; and for Nine/8 Entertainment, Allison Binder of Stone Meyer, Genow, Smelkinson & Binder. Gary Dauberman is represented by ICM.
About the Queen Mary:
Larger than The Titanic, the Queen Mary was the Cunard Line's flagship until being commissioned as an allied troop transport in 1936. Nicknamed "The Grey Ghost" for its uncanny ability to avoid Nazi U-Boats, the craft was so vital to war efforts that Hitler offered $250,000 and the Grand Iron Cross to anyone who could sink it. Despite this, the Queen Mary would make exactly 1,000 ocean crossings before being retired in 1967 with the record for most people ever transported on a single vessel at one time. The great boat did suffer its share of tragedy, though. In 1942, she jackknifed her own escort ship, but due to the presence of U-Boats, had to flee without a rescue mission leaving 239 soldiers to perish in the freezing waters. Later that year, a ninety-five foot wave hit and nearly capsized the Queen Mary while 16,000 soldiers were aboard, an incident that inspired the original Poseidon Adventure which was shot on the Queen Mary in 1971.
Located in the Port of Long Beach, the Queen Mary currently features authentic Art Deco décor, and stunning views of the Pacific Ocean and Long Beach city skyline. At the time of her maiden voyage in May of 1936, she was considered the grandest ocean liner ever built. The Queen Mary's signature restaurants include the award-winning Sir Winston's and Chelsea Chowder House & Bar as well as a weekly Champagne Sunday Brunch served in the ship's Grand Salon. History buffs enjoy the ship's museum and Glory Days tour, guests of all ages love the Ghosts and Legends show, and the ship is currently featuring the renowned Diana: Legacy of a Princess exhibit and Tea Room. The Queen Mary features 80,000 square feet of event space in 17 remarkable Art Deco salons as well as a tri-level, 45,000-square-foot Exhibit Hall. The Queen Mary boasts 346 staterooms including nine full suites.
About Ubiquity Studios:
Designed from the ground up for Digital Cinema Production, and with the digital lifestyle in mind, Ubiquity's 30,000 square foot digital media production facility is based in the rapidly growing research center in Irvine, CA. Well-positioned between LA's film and television industry and San Diego's expanding telecommunications research centers, Ubiquity Studios is a complete digital cinema solution and is available for professional quality production of feature films, broadcast television properties and digital media. For more information, please visit http://www.ubiquitycorp.com/studios.
About Exclusive Media:
Exclusive Media is a vertically integrated global filmed entertainment company, founded in May 2008 with the backing of the strategic investment group Dasym Investment Strategies B.V. (formerly Cyrte Investments). Exclusive Media develops, finances, produces, markets and distributes prestige and talent driven commercial and documentary feature films on a global basis.
Exclusive Media is run by a five member Executive Board with Nigel Sinclair as Co-Chairman and Chief Executive Officer, Guy East as Co-Chairman, Simon Oakes as Vice Chairman and President of Hammer, Marc Schipper as Chief Operating Officer, and Ron Hohauser as Chief Financial Officer. Supporting the Executive Board in both the operational management and strategic expansion of the business is a strong team of highly skilled professionals who have a broad range of complementary experience.
Exclusive Media's development and production activities operate through three specialist labels: UK based Hammer for genre titles, Spitfire Pictures for documentary features and the flagship label Exclusive Media for all other feature film production. Exclusive Media also enjoys a co-development and co-production deal with Cross Creek Pictures.
Exclusive Media's international sales & distribution division maintains a strong marketing presence and represents the group's in-house productions plus its growing library of almost 900 titles including the recently acquired library from Icon Entertainment International. The company also actively acquires third party feature films to further strengthen its international distribution slate.
The company launched a US distribution company, Exclusive Releasing and holds a minority stake in Millennium Entertainment.
For further information about the company, our slate of films, library and our experienced team please visit http://www.exclusivemedia.com.