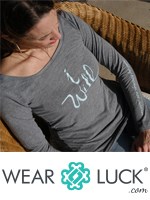 "Women are so excited to finally have a reason to make a New Year's Resolution! I look forward to hearing about all the exercise, diet and romantic goals that are met in 2014!" - Michelle Hastings, Ringleader of WEAR LUCK
Little Rock, AR (PRWEB) December 19, 2013
Every January, people everywhere set a New Year's Resolution and allow it to melt away with the ice and snow. These well-intentioned goals really could be life changing, if only they could be remembered.
That's where Wear Luck steps in with a Resolution shirt which has "I Will" printed on the front and a New Year's Resolution printed right on the sleeve where it can be seen while working on a computer, cooking dinner or telephoning a friend. Choose from popular resolutions such as, "I will make better bad decisions", "I will text less & talk more", "I will use less & recycle more" and others. Also, for the month of January, Wear Luck will print people's personal resolutions right on the sleeve.
These baby soft shirts are available for purchase online at http://www.wearluck.com.
Please call to learn more about Wear Luck "Clothing with a Purpose".