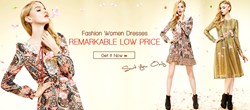 HK, China (PRWEB) December 24, 2013
Tbdress International has proved to be a powerhouse in online shopping thanks to its means of attracting new customers while at the same time keeping the old ones. Currently, this online shopping giant has announced that starting the above mentioned dates, it will bring down the prices of selected items by 85%. The products that are covered in this promotion include special occasion wears, women's clothing and accessories.
The anticipated promotion is set to go a long way in helping online shoppers make huge savings and allow them to buy even more items. It is also anticipated that during this period, Tbdress will attract millions of shoppers from the world all over and therefore, measures have been put in place to make sure that all the received orders are processed faster and the items shipped faster and safely. As it is the culture of Tbdress, the shipping will be tracked from their head offices. Customers will receive their purchased items through EMS or DHL.
For the sake of those who are still new in online shopping, if you want to buy a certain product from Tbdress, you will only need to go to their website and initiate a purchase from there. Make your order, pay and be rest assured that you will have whatever that you have bought in some 2 or 3 days. Once the order is processed, the shipping will be immediately done.
Tbdress encourages its customers to use PayPal and bank transfers in making any payment when doing their shopping. They prefer these platforms because they consider them safe for both the company and the clients as well.
Tbdress International is an online shopping platform with very big internet presence around the world. They also have a very professional customer services available in a number of languages and therefore, if you have any query as far as this promotion is concerned or any other issue, you can reach them through the contact information given below.