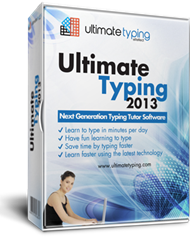 The Mac version is identical to the Windows version, offering the whole set of tools, features and capacities.
New York City, NY (PRWEB) December 23, 2013
The end of a long wait was announced today by eReflect, developer of Ultimate Typing software. The design team at eReflect have just completed their months-long project of creating a Mac version of Ultimate Typing™ so that non-Windows users can benefit equally from improving their typing speed and accuracy.
Commenting on the Mac version release of the software, eReflect said that the design process was time-consuming only because the team prioritizes quality and thoroughness over a subpar product. The experience for Mac users will be rewarding and worth the wait, eReflect reassured readers today. The Mac version is identical to the Windows version, offering the whole set of tools, features and capacities. The efficiency of Ultimate Typing™ partly rests on the integrated approach to typing improvement that encompasses adaptable learning, interactive teaching and engaging activities, something Mac users won't be disappointed with since that fits seamlessly into their current operating platform.
The design team ensured a seamless, smoothly running interface so that the typist will focus on improving their typing speed and accuracy, rather than getting distracted by glitches and other malfunctions. eReflect pointed out that the design team maintained the interactive character that is such a distinctive feature of the software. The real-tutor video tutorials are the same as those used in the Windows version and will thus continue to offer a foolproof one-to-one typing learning experience for the user.
Another unique characteristic of Ultimate Typing™ is its intuitive adaptability, which is also available in the Mac version. The software intuitively offers customized activities and exercises to the users to ensure they will cover all the core typing skills before moving on to more advanced training. The software syncs with the learner's needs and goal input so as to offer an individualized approach. Because of its multi-user interface, each user's progress and training is tracked individually and separately.
In today's announcement, eReflect concluded by reminding readers that the software comes with a 12-month money-back refund guarantee and offers successful users a typing certification that confirms their typing efficiency - efficiency which is quickly gained after practicing with the activities and exercises Ultimate Typing™ offers.
For more details on Ultimate Typing™ please visit http://www.ultimatetyping.com.
About Ultimate Typing™
Ultimate Typing™ software is designed specifically for the improvement of typing skills. Created by eReflect, a world leader in e-learning and self-development software, Ultimate Typing™ has been informed by the latest developments in the science of touch typing.
Since its creation in 2006 by Marc Slater, the company has already catered to over 112 countries all over the world, offering products with the latest cutting-edge technology, some of which are among the world's most recognized and awarded in the industry.