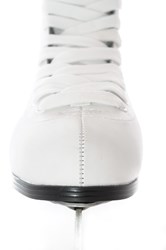 the sport provides the necessary basics that are suggested for youth exercise.
Cardiff (PRWEB UK) 20 December 2013
When you consider how popular the sport was in the 1970s and 80s and the 11 years of Dancing on Ice, aside for the devoted, the sport has taken a dip in sports popularity. Whether it's the fact that many parents are looking for non-traditional sports for their kids due to the scares in injuries or the upcoming Winter Olympics in Sochi, Russia, the sport is making a comeback.
According to recent ice rink figures, toddlers as young as 2 and 3 years of age are once again lacing up the skates with mom and dad's help and hitting the ice, both literally and figuratively. Learn-to-skate classes are increasing across the nation and here in the UK, where just a few short years ago ice time was dominated by hockey teams, the time is once again balancing out.
Youth figure skating knows no boundaries of economics, demographics or gender as it once did. Today, with more rinks available and increased open skates with coaching, youngsters are finding the sport to be both athletic and artistic, so much so that even psychologists and physical therapists are using figure skating to work with children with disabilities and are encouraging them to participate.
In this era of social media, smart phones and tablets, families are finding that figure skating is actually something they can do together versus the traditional youth sports where parents and siblings are mere spectators sitting in the grandstands. The sport provides the necessary basics that are suggested for youth exercise, and for adults it falls into the category of increased aerobic activity by the UK Heart Foundation.
The overly protective may say that a fall on the ice is worse than a hit on the rugby field. The National Ice skating Association offer both sound advice and common sense. The hard ice surface can be risky which is why it is suggested that novice skaters and toddlers, before they put the blades on, should be taught how to properly fall and get up on the ice.
If the Sochi Olympics are like other Olympic Games, there will be an increase in winter sports participation both during and after the games due to the hours that will be televised over the cable and internet outlets, and while the cream of the crop from Squad GB will be competing, coaching and judging, rest assured that there will be plenty of certified rinks and teachers back here in the UK to help you and your children out. To find a Learn to Skate Course in your area go to http://www.planet-ice.co.uk.