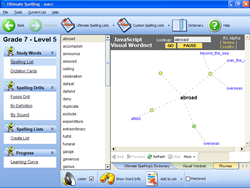 These spelling bee events help remind people that spelling bees can be as fun for adults as they are for younger people.
New York City, NY (PRWEB) December 24, 2013
eReflect, developer of Ultimate Spelling™ software, emphasized today that adults can and should improve their spelling skills, and that spelling bees are not just for young students. Lifelong education should focus first on ensuring that basic skills such as spelling and keyboarding are mastered before moving on to more advanced skills, to ensure adults can cope easily with technology's fast-paced advancements.
Because people tend to associate spelling with young children, adults are often reluctant to engage with spelling activities and other social spelling events. eReflect points out that many communities are organizing spelling bee contests in an effort to increase awareness of the importance of spelling and the fact that spelling is not an age-specific skill. As an example, eReflect points to the Grand Finale Spelling Bee at the DuPage County Historical Museum that took place on Wednesday, October 9, 2013. Margot Zwierlin was the big winner of the event. The impressive and unique aspect of this spelling bee is that all participants were senior citizens who've maintained their spelling skills in tip-top shape. Another spelling event eReflect finds noteworthy is the first annual Adult Spelling Bumble hosted by the Franklin County Literacy Council. The fundraising event, held November, 2, 2013, featured adult spellers who competed against one another in a spelling bee-like contest.
Such initiatives show that adults definitely know that spelling is a quintessential literacy skill. These spelling bee events help remind people that spelling bees can be as fun for adults as they are for younger people. eReflect has long promoted the use of spelling bee software to make learning spelling fun, and congratulates the organizers of both events for bringing the importance of spelling into the public spotlight.
Apart from the entertaining and charitable aspect of adult spelling contests, these competitions serve educational purposes as well. eReflect is a firm believer of lifelong education which can further advance people's skills and careers. eReflect hopes that more communities will follow in the footsteps of DuPage and Franklin Counties and organize their own local spelling bees for adult spelling literacy and awareness.
For more information about how Ultimate Spelling software can improve spelling performance for you and your family, please visit the official website at http://www.ultimatespelling.com.
About Ultimate Spelling™
Ultimate Spelling provides a modern and easy to use spelling software that has been designed with one goal in mind – making children want to learn.
It is a fast and easy way to master even the most complicated spelling, without the need to write long lists or complete boring tests.
In fact, Ultimate Spelling provides more than just spelling help. It is a complete educational resource that boosts all level of a child's literacy.
Containing a personal computer tutor, Ultimate Spelling is the most realistic step-by-step guide to flawless spelling ability.