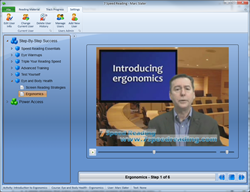 Reading folktales and fairy tales is an entertaining way of becoming familiar with faraway cultures and their traditions.
New York City, NY (PRWEB) December 20, 2013
7 Speed Reading™ developer eReflect expresses its gratitude to Viktor Andonov and his website http://www.wordoftales.com for their contribution to enhancing cultural sensitivity and diversity awareness while promoting literacy. Folktales are cultural treasures that represent each country's and era's character. Each country offers unique tales of fantasy and romance that, when put together, offer a kaleidoscopic amalgam of fascinating realities. These worlds, offered by Viktor Andonov through his website, are valuable resources for children that cultivate their imagination and let them come closer to unknown and charming new traditions. An interview with Andonov was recently featured on eReflect's product website.
Viktor Andonov has created a varied list of folktales from around the world, and on the website North American, Nigerian, Japanese, Slavic and Brazilian tales are available to everyone at no cost. Apart from culture-specific folktales, the site also features timeless classics by the Brothers Grimm and Hans Christian Andersen, as well as Aesop's always-contemporary fables. Audio and video fairy tales are also available to children and their parents who wish to learn a new bedtime story each night.
eReflect finds the initiative and effort put forth by Victor Andonov noteworthy, as it contributes to the richness of online and global life by showing how varied and different cultures are around the world. Reading folktales and fairy tales is an entertaining way of becoming familiar with faraway cultures and their traditions. While eReflect doesn't recommend speed reading fables and folktales, it does encourage parents to introduce folktales of other cultures in their children's reading list.
Apart from contributing to diversity awareness and cultural sensitivity, folktales and other cultures' fairy tales help young readers grow fond of reading. Fairy tales and other stories spur a child's imagination which can only be further stimulated by reading more. The material on the WordOfTales website can be read on any device, making it easier for parents and children to sit side by side and read the stories together.
eReflect, the developer of 7 Speed Reading™, the software that has taught people in dozens of countries how to read faster, expresses its hope that similar projects that emphasize cultural diversity will be made available, and that people around the world continue to share their literature and their stories with each other.
For more information about the benefits of using 7 Speed Reading, please visit the official website at http://www.7speedreading.com.
About 7 Speed Reading™
7 Speed Reading is the only modern speed reading software that uses the latest technology to produce superior results.
The software provides its users with a new way to master speed reading that guarantees three times the reading speed along with improved memory and comprehension.
The software is poised as the most comprehensive speed reading system anywhere. It contains seven learning strategies, fifteen software activities, video training, advanced tracking capabilities and many more exciting features.