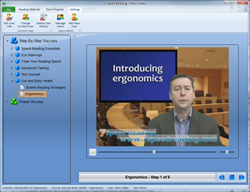 High school seniors or those who never received their high school diploma are seeking ways today to update their skills and credentials.
New York City, NY (PRWEB) December 22, 2013
The University of Rutgers in New Jersey, with a legacy that spans over 250 years, is now extending its educational impact to non-traditional populations, including senior adults, active professionals, and students preparing for college. Rutgers University recently established the Division of Continuing Studies, a department that offers a variety of resources for anyone wishing to expand their skill set or stimulate their intellect with courses, workshops and other educational opportunities.
Richard Novak, Vice President of the Division of Continuing Studies (DOCs) talked to eReflect about the importance and goals of DOCs emphasizing the all-inclusive character of this initiative. People of all ages, walks of life, and learning requirements can benefit from the resources and classes that DOCs is offering. As the interview with Richard Novak points out, the typical university population is no longer the 18 to 24 age segment. Younger students and senior adults too are interested in college classes— each for their own purposes. High school seniors or those who never received their high school diploma are seeking ways today to update their skills and credentials, and Rutgers offers them a second chance at it. On the other side of the age spectrum, retirees and other senior adults also are looking for ways to remain mentally active by choosing non-credit academic courses either as a pastime or for intellectual stimulation. Apart from academic courses, the Division of Continuing Studies offers classes on time management and study techniques, and offers remote coaching and counseling services, among others.
eReflect believes educational opportunities such as the ones offered by the Rutgers University DOCs program shouldn't be considered an exception but the standard. Lifelong education shouldn't be a privilege, but instead should be an opportunity every citizen has access to. eReflect, as the developer of 7 Speed Reading™, a software designed to teach people how to read faster, applauds the efforts of Rutgers University and hopes more universities will offer similar educational opportunities to more citizens.
For more information about the benefits of using 7 Speed Reading, please visit the official website at http://www.7speedreading.com.
About 7 Speed Reading™
7 Speed Reading is the only modern speed reading software that uses the latest technology to produce superior results.
The software provides its users with a new way to master speed reading that guarantees three times the reading speed along with improved memory and comprehension.
The software is poised as the most comprehensive speed reading system anywhere. It contains seven learning strategies, fifteen software activities, video training, advanced tracking capabilities and many more exciting features.