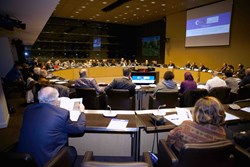 Paris, France (PRWEB UK) 19 December 2013
On 14 December, The European Azerbaijan Society (TEAS) and the Institut de Découverte et d'Étude du Monde Musulman (IDEMM) held a symposium entitled 'Pelerinages Laics: France/Azerbaïdjan –modèles universels ou exemples singuliers? (Secular pilgrimages: France/Azerbaijan – models for the world, or unique examples?)' chaired by Thierry Mariani, MP of French nationals from abroad and the President of the France–Azerbaijan Friendship Group in the French National Assembly.
The symposium was held in the prestigious setting of the Palais Bourbon and attended by some leading experts, including Jean-Louis Bianco, President of the Observatoire National de la Laïcité; Jean Baubérot, Historian, Sociologist and Founder of the Sociology of Secularism; Tareq Oubrou, Head of the Bordeaux Mosque and Director of IDEMM; Jean-Pierre Allali, Member of the Conseil Représentatif des Institutions Juives de France (Representative Council of Jewish Institutions in France); and Nigar Huseynova, Counsellor, Political Affairs, Azerbaijani Embassy in France. Around 100 diplomats, academics, historians, opinion-makers and civil society representatives were delegates at the symposium, all of which were interested in discussing the concept of secularism and the future of cohabitation between different religious communities in France and elsewhere around the world.
The symposium was divided into two roundtables, one focusing on the state of secularism in France and elsewhere and the other examining the Azerbaijani approach to secularism. Ghaleb Bencheikh, a famous philosopher, theologian and TV host of the weekly show Islam on French public television, moderated both sessions. This also examined the theoretical and historic background of secularism and helped highlight the differences and similarities between secularism in France and Azerbaijan.
Azerbaijan is a Muslim majority country with Jewish, Catholic and Orthodox communities living alongside one another in a unique model for coexistence and respect of minorities within the Muslim world. In this respect, Azerbaijan gives some food for debate on secularism in France and in the world of Islam. Also, Azerbaijan is probably the only country in the world where the Jewish Community has not been threatened for more than 1000 years, and where the ancient religious sites of all communities that were destroyed during the Soviet era have been rebuilt by the State.
The roundtable came in the wake of an event in June when TEAS and IDEMM hosted a symposium entitled Islam and Secularism: Shared stakes — the Azerbaijani experience and its reflection in France at the Musée d'Aquitaine in Bordeaux, France. This symposium was chaired by Tareq Oubrou and Vincent Feltesse, a local MP. Nijat Mammadly, Director, International Relations, Azerbaijani State Committee for Work with Religious Organisations, travelled all the way from Baku to attend the symposium among 150 guests, including many political and religious leaders.