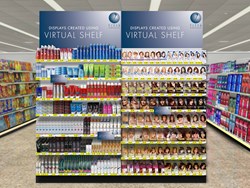 We believe this release will establish Virtual Shelf as the preferred planogram system for the next ten years."
(PRWEB) December 19, 2013
In today's dynamic retail environment Fifth Dimension recognises its software must constantly evolve to meet its clients' need for quick, easy and efficient micro space planning, analysis and reporting.
To achieve that goal, Virtual Shelf Version 5 incorporates the results of many collaborative partnerships with major retailers and manufacturers where Fifth Dimension's dedicated Consulting and Development teams worked side by side on demanding project work, systematically enhancing and improving Virtual Shelf's capabilities in line with clients' evolving business needs.
"Fifth Dimension has been collaborating closely with major Retailers and Manufacturers since 1995" said Mike Letchford CEO, "but more recently we've seen rapid changes in our client's challenges and business strategies, particularly in the optimization and management of retail space and the planning of more effective 'localised' merchandise displays, and that shared insight has focussed and driven our application developments"
One of the most important features of Version 5 is the deep integration it now has with PRISM, our advanced, enterprise level, 'command and control' planogram database, the second generation of which is about to be released. These integration improvements provide a greatly enhanced, richer and faster workflow when the client is managing many thousands of planograms.
In terms of workflow improvements and additional functionality, this release provides among many other innovations, a new, user configurable Properties Panel, which accelerates access to single and multiple product, shelf, planogram and POS attributes; making it very easy to update important data 'on the fly'. Product 'Squeeze' has been enhanced, to further support the practice of maximising facings or inventory on display for relevant products, especially in categories such as frozen food.
To support the increased use of Shelf Ready Packaging, Version 5's placement rules have been enhanced to optionally cap products on tray cases, and also to allow merchandise to be placed across shelf breaks, greatly improving in-store execution.
Version 5 also incorporates major improvements in rendering times to support clients who are making increased use of Virtual Shelf's ability to render highly realistic 3D images of merchandise displays in a real or virtual store context. Rendering has been accelerated by 200% to 300% depending upon the size of the planogram, so now it's even easier to generate compelling presentations of merchandise plans.
Mike Letchford had this to say about the Virtual Shelf upgrade. "Virtual Shelf Version 5 is a breakthrough release. Our clients have contributed extensively to its development and it also reflects many improvements requested by new clients moving to Virtual Shelf from older, more traditional planograming systems. We believe this release will establish Virtual Shelf as the preferred planogram system for the next ten years."