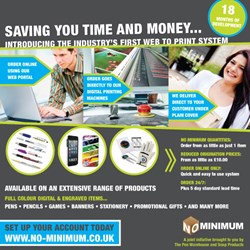 No-Minimum aims to provide distributors with an effective weapon in the fight against the rising threat of on-line retailers
(PRWEB UK) 19 December 2013
2013 proved a winning year for The Pen Warehouse, as the UK's leading supplier of promotional writing instruments picked up its fifth award on Friday 13 December.
The company was presented with the British Promotional Merchandise Association's (BPMA) award for Innovative Product of the Year for its web-to-print technology, No-Minimum.
No-Minimum allows distributors to order promotional items in low volume at great prices, at the click of a mouse button for the first time. Developed by The Pen Warehouse and Snap Products using their specialist industry knowledge, the sophisticated Web to Print system ensures speed and efficiency as the entire order process is completed online.
A ground-breaking advancement for the industry, No-Minimum enables Business Gift Houses to send their orders direct to the printing machines, minimising administration overheads so that distributors can benefit from reduced origination costs. No-Minimum also allows distributors to take advantage of a much larger slice of the personalised gifts market and counter the threat of online retailers, which offer an increasing range of promotional items in low quantities.
Speaking about the award, Managing Director Neil Cleere said: "We're delighted that the industry has awarded the title of Innovative Product of the Year to No-Minimum. No-Minimum aims to provide distributors with an effective weapon in the fight against the rising threat of on-line retailers, by enabling them to respond positively to enquiries they would previously have had to turn away. We will continue to introduce exclusive new products and innovative services throughout 2014 to support distributors."
The Pen Warehouse is a family firm, established 15 years ago, which has invested in state of the art printing technology and pioneered full colour digital printing to produce near photorealistic images on promotional writing instruments. It is one of the few promotional pen companies to offer exclusive products designed in-house, providing a point of difference for distributors.