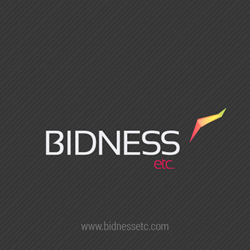 We are occupying a white, differentiated space in the market for business journalism.
(PRWEB) December 18, 2013
BidnessEtc.com is a visual and intellectual journey for anybody interested in financial research and news. The team behind the project seamlessly fuses professional research with jaw-dropping visual elements to present financial analyses in a way no media company has ever done before.
In an era when most established business media outlets have implemented paywalls, BidnessEtc.com is leveling the playing field by providing free-of-charge insights into how the smart money thinks.
The website's easy-to-navigate layout and revolutionary aesthetic puts professional analyses and research in the reach of not only the Wall Street professional, but also the Main Street businessperson looking for advice on how to manage his/her savings.
BidnessEtc.com is currently staffed with more than 70 highly-talented individuals, including financial analysts, graphic designers, editors, social media experts, computer programmers, musicians, philosophers and writers. But Mr. Khan is not done building yet. He says he wants to see the BidnessEtc.com team grow to at least 200-300 over the next 12 months, so that his company has the requisite manpower to "take financial media to the new age and redefine it."
Mr. Khan, who managed close to $300 million for clients when he was only 27, has reunited with key members of his team from Timescape Global Capital Management – a hedge fund he co-founded in 2006 – for the BidnessEtc.com project. Before Timescape, Mr. Khan worked at SAC Capital Advisors from 2003 to 2006. He had graduated from Columbia University (Phi Beta Kappa and Magna Cum Laude) in 2003 with departmental honors in economics.
In his trading days, Mr. Khan was hyper-active in the market, often buying and selling more than 20 million shares in a single day. His trading strategy was built on exhaustive research conducted by his team and himself. He is bringing that experience to the table through a team of world class analysts trained in his research methodologies. By utilizing that expertise, he says, the BidnessEtc.com team will provide the most relevant information on key drivers and trends to readers.
And finance is not all there is to BidnessEtc.com – to keep Gen Y readers engaged while educating them in finance, BidnessEtc.com is also running an entertainment platform side-by-side its business platform.
With its refreshing take on finance, it seems the team behind the project is intent on making a point: business can be just as interesting and engaging as any other topic of interest.
For more on the company and its vision, visit: http://www.bidnessetc.com/business/about-us/