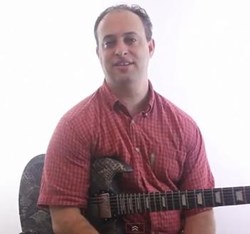 (PRWEB) December 18, 2013
In this guitar lesson, now available on YouTube.com, Claude Johnson teaches about the concept of phrasing in lead guitar.
Claude starts off this lesson by explaining what he means by phrasing. "Music is a language", says Johnson, "just like the English language, it's not what you say, but how you say it". Claude demonstrates this on the guitar with a simple blues lick in B pentatonic minor. He bends the 9th fret of the 3rd string a whole step with his 3rd finger and then releases the bend and plays that same note followed by the 7th fret with his first finger and follows that with the 9th fret of the 4th string with his 2nd finger. Claude talks about how you change the phrasing of this lick by using different techniques such as slides, hammer-on's, pull-off's, and vibrato. He also mentions dynamics, meaning how hard or soft you pick the strings, and note duration, meaning the amount of space between notes. He go's on to play numerous examples of ways to achieve different phrasing for this same lick. "It's not like you need to spend tons of time practicing your phrasing", says Johnson, "it will all come with time while your learning". Claude says you should work more on understanding scales and playing melodies, "phrasing will come in time while you express yourself". Johnson feels that playing the same lick over and over all the time is not very productive, "if you are going to do that, record yourself so you can hear the things that you need work on", says Claude. He concludes by saying that practicing the fundamentals you will get better at phrasing naturally. For more tips head over to GuitarControl.com.
Claude Johnson
Claude Johnson, a native of Philadelphia PA, began playing guitar in 1990 after being inspired by players like Jimi Hendrix, Eric Clapton, and Stevie Ray Vaughn. He is the creator of GuitarControl.com and has helped 1000's of people to learn to play the guitar with his critically acclaimed instructional DVD courses, all available at GuitarControl.com.
About GuitarControl.com
GuitarControl.com is the leader in modern guitar instruction. It's packed with recourses including articles, video lessons, and the best videos in the business for the beginner to the advanced guitar student taught by the best instructors out there. Weather you are into the blues, rock, jazz, metal, folk, or anything in between, they have you covered.