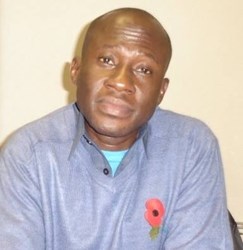 Although we are disappointed with the decision we will continue to fight for Mr Muazu even though he is outside the country.
London, Uk (PRWEB UK) 18 December 2013
Nigerian born Isa Muazu, 45 who went on hunger strike for three months has been removed to Nigeria after a long and gruelling legal battle, a failed removal attempt and repeat incarceration at Harmondsworth Detention Centre, despite his critical condition.
Mr Muazu's solicitors, Duncan Lewis, applied for permission for a judicial review on a number of decisions to certify and maintain certification of Mr Muaza's asylum claim. This was refused by the upper tribunal on the 18th December (2013).*
Following this, the Legal Aid law firm appealed against the decision to the Court of Appeal on the same day. Sir Stanley Burnton refused interim relief for a stay of removal on the papers.*
Duncan Lewis' Immigration solicitors then renewed the matter to an out of hours Court of Appeal Judge at around 9pm that day. Lord Justice Floyd refused the solicitor's oral application and Mr Muazu was removed to Nigeria at around 10.30pm the same day.*
Toufique Hossain, Public Law Director and solicitor in Mr Muaza's says:
"We are extremely disappointed by the judgment handed down by the Upper Tribunal yesterday morning. We felt that the substantial evidence produced before the tribunal more than justified the granting of a stay and permission to apply for a judicial review. Although we are disappointed with the decision we will continue to fight for Mr Muazu even though he is outside the country. With respect, we maintain that there are significant errors of law in the Upper Tribunal judgment and we intend to pursue our appeal at the Court of Appeal."
"This case has been extremely difficult to litigate given the contracted timeframe pushed by the Home Secretary. We will not give up on him. On behalf of Isa, I would like to specifically thank his barristers and team including Sonali Naik, Raza Halim, David Neale and Jennifer Blair all at Garden Court Chambers".
*SA MUAZU V SSHD- Court of Appeal-Civil Division- JR/5068/2013
About Duncan Lewis
Duncan Lewis, established in 1998, is the largest civil legal aid practice in the UK and one of the country's fastest growing firms of solicitors, serving both corporate entities and private individuals from offices across London and throughout the UK. A recommended leading law firm by Law Society Lexcel, Legal 500; Duncan Lewis employs over 500 members of staff and was the first law firm to achieve the Investors in People Gold Quality Standard Mark in 2009. Representing over 25,000 clients per year, the company has an excellent reputation in the Administrative Court, High Court and Court of Appeal in the Immigration, Public law and Family/Child Care jurisdictions.
Established areas of law are: business immigration, child care, civil liberties, clinical negligence, community care, crime and fraud, dispute resolution, debt and insolvency, employment, family and divorce, housing, asylum and immigration, litigation, mental health, personal injury, prison law, professional negligence, public law and administrative law, regulatory matters and welfare benefits.