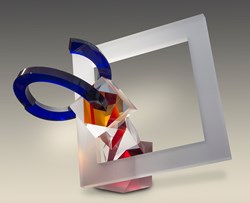 (PRWEB) December 18, 2013
Ringling College of Art and Design will host an exhibition of Glass Art from the Collection Richard and Barbara Basch Monday, January 6 at 10 a.m. and running through Friday, March 7 at 3 p.m.
The exhibition titled "Che Colore!" will include over two dozen examples from the Richard and Barbara Basch Glass Collection. Artists in the show include: Dale Chihuly, Laura Donefer, Irene Frolic, Michael Pavlik and Lino Tagliapietra. The artists in the exhibition represent numerous countries including: the Czech Republic, Italy, Japan and the United States.
The colorful objects in this exhibition reference the history of art in depictions of the human form, vessels such as baskets, goblets, bowls and pots as well as highly imaginative abstract forms. The exhibition will showcase glass objects made by various methods including: blowing, casting, molding, polishing, cutting, lampworking, sewing, fusing and slumping.
"For most of us, our familiarity is with clear glass – perhaps with a tint of green or blue in our homes, offices and cars," said Mark Ormond, Curator of Exhibitions for Ringling College Galleries. "In fact, since its first appearance in a modern civilization somewhere in Mesopotamia (modern day Syria and Eqypt) around 3500 BCE, most glass has been clear. While some of the objects in this exhibition include some clear glass, the majority of examples celebrate the discoveries in science and advances in production that make extraordinary color in glass possible."
"Looking at examples that have survived over time, glass always seems to have been a luxury material and in evidence when cultures had some extra disposable income. Unusual vessels and jewelry made from glass have fascinated individuals for centuries. Today, ordinary glass objects can be made very inexpensively and purchased for as little as a dollar. However, Art Glass and Glass Art occupy that rarefied world of expensive collectibles affordable to the wealthy. In the twenty-first century, artists are using glass to give expression to their ideas and passions. For some artists it is an exclusive medium and for others it is just one of many materials they use to make works of art. Often their creations appear to be functional because of their shape and form but, in fact, are not, and only reference the history and tradition of a particular shape and form. This exhibition will represent numerous examples, styles and methods of glass making," concluded Mr. Ormond.
About the collection: Richard and Barbara Basch started their collection of Glass Art in 1993, when they began purchasing work of American artists. They soon expanded the scope of their collection to include artists from all over the world. During their travels they became interested in artists from Italy, France, the Czech Republic and Scandinavia. This exhibition includes more than two dozen works from the Baschs' extensive collection of more than 275 objects.
The exhibition will open to the public on Monday, January 6, 2013.
Gallery Hours are Monday through Saturday from 10 to 3 p.m.
Mrs. Basch will be giving tours on Wednesdays at 10:30.
The Gallery will be closed on Dr. Martin Luther King Day, Monday, January 20.
The Richard and Barbara Basch Gallery is located in the Academic Center of the Ringling College of Art and Design in the southernmost area of the campus - 2363 Old Bradenton Road just east of (41)North Tamiami Trail. There is visitor parking in front of the Academic Center building.