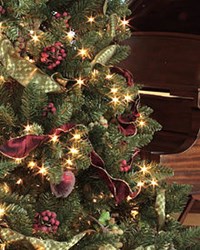 Many homeowners don't realize what a hazard a Christmas tree can be, and so its important to not only take care of it, but to also properly dispose of it as well.
Longwood, FL (PRWEB) December 19, 2013
With the Christmas holiday just around the corner, Teachers Insurance Specialists offers advice on how to safely remove a Christmas tree to prevent fires and damage to Florida resident's homes and cars. "Many homeowners don't realize what a hazard a Christmas tree can be, and so it's important to not only take care of it, but to also properly dispose of it as well", says Simone Baldwin, owner/operator of Teachers Insurance Specialists.
After the holidays, not only should homeowners take down their tree, but also it is important that it does not remain in your home for more than one month. The longer a Christmas tree stays up, the more hazardous it becomes. The general rule of thumb is that a tree should be disposed of when it begins to drop its needles. Additionally, homeowners should not store a Christmas tree in their garage because a dry tree can start burning out of control within only 30 seconds of being ignited.
Another important guideline is to never burn a Christmas tree in a fireplace or wood-burning stove. Fir and Pine trees contain a good amount of sap and turpentine oils, which can ignite explosively because they are highly flammable. They can also create buildup in your chimney and therefore increase a chance for a chimney fire.
By following the steps below, homeowners can properly dispose of their Christmas Tree and help reduce the number of home insurance claims due to fire and injury. "Christmas Trees are one of the favorite traditions this time of year, so it is important to take the proper precautions to prevent accident or injury from occurring and subsequently, pesky insurance claims," emphasizes Baldwin.
How to Remove A Christmas Tree:
Remove the tree skirt.
Use a turkey baster and siphon out the remaining water in the stand.
Set the tree down on its side on top of a sheet, stand and all and then remove the stand. Homeowners can also clip off the branches and bag them. Sweep up as many needles as possible and vacuum any dirt. Needles can damage a vacuum cleaner.
If using a plastic tree bag, envelope the tree and stand, then take them outside. Once outside remove the plastic and stand.
Before disposing of a Christmas tree, small branches can be removed and repurposed as garden mulch.
For Florida residents living in Seminole County, Christmas tree pick up times are:
Wednesday, January 08, 2014
Wednesday, January 15, 2014
Wednesday, January 22, 2014
Wednesday, January 29, 2014
Unincorporated Seminole County residents may place live Christmas trees curbside for collection. Trees larger than 8 feet tall must be cut in half.
Please place the live Christmas trees at the curbside no later than 6am.
(Artificial Christmas trees may be placed at the curbside with the regular household garbage)
All Seminole County residents may dispose of live Christmas trees at the Central Transfer Station, 1950 State Road 419, Longwood, 32750 Monday through Saturday 7:30am to 5:30pm or the Seminole County Landfill, 1930 E Osceola Rd, Geneva, 32732, 7 days a week from 7:30am to 5:30pm free of charge.
Teachers Insurance Specialists offers "tailored to fit" insurance policies for Florida educators and non-educators alike. The Longwood, Florida Insurance agents provide exceptional car insurance, home insurance and life insurance products.
Teachers Insurance Specialists is located at 2917 West State Road 434, Suite 101 in Longwood, Florida 32779 about 30 minutes east of Downtown Orlando.
Florida residents are encouraged to visit Teachers Insurance Specialists online at http://www.TeachersInsuranceSpecialists.com for free quotes on home, auto, and life insurance. Consumers can reach Simone Baldwin and her insurance agents at 407-622-6634 to receive a free insurance quote over the phone.