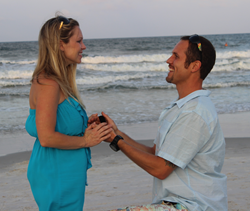 "This giveaway is a great way for the Jacksonville business community to help two of its own during such a special time." - Alan Worley, Money Pages' CEO
Jacksonville, FL (PRWEB) December 19, 2013
Christmas came early for one Jacksonville couple as Money Pages announced the winners of its fourth Ultimate Wedding Giveaway.
Eric and Brittany's winning story is one of timing. The two lovebirds knew each other in high school and got reacquainted after 10 years apart. A couple of months and several rescheduled dates later, Eric and Brittany finally came together and have not separated since.
The couple got engaged on the beach at sunset on their one-year anniversary. Though financial restrictions seemed they would put a halt to their special day, timing and a little luck was in their favor yet again when they were announced the winners of the Money Pages Ultimate Wedding Giveaway.
"We're so thankful that Money Pages and the Jacksonville community picked us as the winning couple," said Brittany. "This will allow us to actually have a beautiful ceremony and reception with our family and friends instead of settling for a courthouse wedding."
Spurred on by this amazing opportunity and their own journey, Eric and Brittany plan to tie the knot in Spring 2014.
"Eric and Brittany are a very deserving couple with a compelling story," said Money Pages' CEO, Alan Worley. "This giveaway is a great way for the Jacksonville business community to help two of its own during such a special time."
This year's prizes are: a venue for 50 people at the Ponte Vedra Concert Hall; rehearsal dinner for 10 people at Pusser's Caribbean Grille; food from Anthony's Gourmet Catering; wedding dress and tuxedo by Michael's Formalwear & Bridal; wedding bands from Gold Hills Jewelry; photography by Severine Photography; teeth whitening from Evens Family Dental; weight loss program from WLS Weight Loss; Obagi skin care by Aesthetic Center of Jacksonville; $500 gift certificate for home furnishings at Rooms To Go from Keller Williams; limo service by At Your Service Limousines; laser hair removal for the bride by Slim Body and Spa; three months of unlimited yoga by Bella Vida Yoga; and a couple's massage by Massage Heights.
Money Pages added a philanthropic component to this year's contest, selecting Brides Against Breast Cancer (http://www.bridesagainstbreastcancer.org) for a $1,000 donation. The organization will use the funds to provide no-cost programming for cancer patients, their families and caregivers.
After its fourth successful year, Money Pages expects to have another great giveaway next year, as well as for years to come.
Money Pages is a direct mail publication saving readers money on everyday purchases and helping businesses grow their bottom lines. Since its inception in 2001, Money Pages has grown to 13 corporate markets throughout northeast Florida and southeast Georgia, reaching more than 560,000 homes monthly. Money Pages generates more than $1 million in local economic impact and offers more than $50,000 per month in potential savings for readers. Money Pages has two independently owned and operated markets as it begins to expand its readership base. The first began eight years ago in Greenwood, S.C. In 2013, Money Pages began franchise operations in Ormond Beach, Fla. and Cary, N.C. Money Pages also specializes in custom direct mail campaigns and interactive marketing solutions to help businesses further target their desired customers. For more information, visit http://www.moneypages.com or call 904-306-0086.
###
For additional information, interview and image requests, contact the Axia Public Relations firm at 866-999-2942, ext. 700.