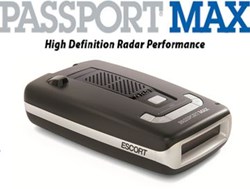 PASSPORT® Max™ has been officially rated the #1 radar detector in the January issue of Car And Driver magazine.
West Chester, OH (PRWEB) December 18, 2013
ESCORT Inc., recent winner of the industry's top honor, SEMA Show 'Best New Product', is announcing that its all-new PASSPORT® Max™ High Definition radar detector has been rated #1 radar detector in Car And Driver Magazine.
"Key industry experts including SEMA, Popular Mechanics and now Car And Driver rate ESCORT as the leading provider of the best radar detectors available," said Ron Gividen, ESCORT PR Director. "Our new PASSPORT® Max™ helps drivers to drive safer by giving them unprecedented driving awareness and category leading performance based on entirely new digital technology," he added.
At the nation's premiere new product event, the 2013 SEMA Show in Las Vegas last month, ESCORT's enormously popular PASSPORT® Max™ digital radar & laser detector wowed SEMA show judges and attendees. During the show, ESCORT received three major awards including the SMEA Show top honor, 'Best New Product'.
In addition to the SEMA top honor and the Popular Mechanics awards, PASSPORT® Max™ has been officially rated the #1 radar detector in the January issue of Car And Driver magazine (December newsstand).
PASSPORT® Max™ uses advanced Digital Signal Processing to scan for radar threats faster than other detectors. This increase in speed delivers a corresponding improvement in detection capability and range that has resulted in PASSPORT Max™ setting three new industry marks: fastest response time; longest reception range; and best sensitivity for detecting low level signals.
"Our PASSPORT® Max™ sales continue to exceed our expectations," said John Larson, ESCORT President and CEO. "We are humbled by the response from our customers who overwhelmingly agree that this is the detector to have," Larson added.
The all new PASSPORT® Max™ is not slowing on its record pace for single model unit sales. From its day one launch through the holiday season, ESCORT's new premium detector is setting all new sales marks including: single day sales, first week and first month release sales and now, during one of the firm's most active months, PASSPORT® Max™ continues to pace all new marks for holiday season sales.
For more information about the new PASSPORT Max HD Detector, view ESCORT Inc. on YouTube, visit ESCORTinc.com or call the company direct at 800.433.3487.
About ESCORT Inc.
ESCORT Inc. is the designer and manufacturer of the world's most awarded radar and laser detectors, the patented ESCORT Live™ real-time ticket protection network, PASSPORT Max HD radar detector, ESCORT MediaFlair™, ESCORT MobileTV™, Guardian Alert reverse obstacle detection systems, Entourage GPS-enabled navigation and tracking products, ESCORT QuickStart™ and other Drive Smarter products. ESCORT holds more than 85% of all active category patents and manufactures products under the ESCORT, PASSPORT, REDLINE, SOLO and BELTRONICS brands.