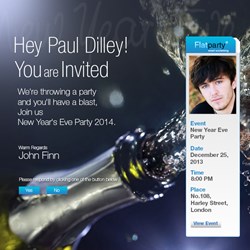 New York (PRWEB) December 23, 2013
Flatparty.com, the unique social networking site that pioneered two way communication via SMS and email, recently introduced innovative features, including customizable email templates for all users. New features enable user to upload pictures or business logos and to edit page templates. Flatparty.com's email templates make two way communications both more professional and more personal. Members deploy these templates with their pics and business use them to reach out to their customers. Any Flatparty.com user can send unique, personalized greetings to their near and dear ones during Christmas and New Year.
Another recently launched feature allows users to extend event invitations to non-members. When users create new events, they can use a new 'guest' option to invite members and up to 250 non-members. The invitation will go directly to the non-members' email address, and they will be able to respond to the event invite by becoming the member of the site. This is new way of reaching out to non-members of the site and to increase the practical usefulness of Flatparty.com for issuing event invitations. This feature positions Flatparty.com one step ahead of any other social media site, which usually constrain communication within the limits of their community.
Flatparty.com also has features like MyRealm,Forum,Blogs,Polls,Events, in addition to common social networking features like chatting,video and music uploads. By adding these new features the site enhances communication and is more interactive and user friendly.
MyRealm is an innovative feature that allows a user to create or join interest groups. A mobile number is mandatory for MyRealm members, and there are four types of membership: basic, premium, ultra-premium and deluxe. A user can send SMS and email messages to an individual or in bulk. In the forum feature, a user can initiate a discussion or debate among group members. Polls allow a user to conduct polling and measure opinions from other Flatparty.com members.
These features differentiate Flatpary.com from similar online networking sites because of their simplicity, user friendliness and clear focus on social interaction. Social interaction is encouraged by letting the user communicate directly through email and SMS.
According to Anto Toms, CEO of Flatparty.com, "We firmly believe the new features have an important role to play in bringing people closer together. Using a single platform, people can write blogs, invite others, share photos and videos, email and SMS. Political parties can utilize the poll feature and measure public opinions regarding any current issue. These features will allow people and groups to communicate about real time activities and promote collaboration like never before. People can expect more powerful, effective new socializing features from Flatparty.com in the near future."
Flatparty.com is getting a good response in the US market and number of prominent groups, such as trade unions, are already the part of the site. The site is also discussing with political parties how they can start using this site for their party meetings. The two way communication feature via SMS and email will enable political parties to reach out to their membership to announce party meetings, plenums and monitor party activities.
About Flat Party® Inc
Founded in 2012, Flatparty, Inc. is a USA based business with primary operations in New York. The business focuses on providing a unique social networking platform. Flatparty.com is a free social networking site allowing registered users to create profiles, upload photos ,video and music ,send messages and keep in touch with friends, family and colleagues from all around the world. The site also includes public features such as groups,events,polls and blogs. Groups let members share common interests. The events feature lets members publicize an event,invite guests, and track attendance, even before the event has started.