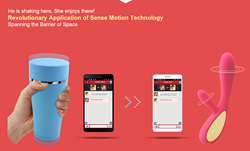 (PRWEB) December 19, 2013
Recently, a UK company EFEELINK has launched a set of adult toys. These new products can help make remote love making come true.
What is remote sex? Simply speaking, two lovers can remote control each other, and with real-time HD video, they can enjoy the intimate time face to face. They can have a strong sense of reality through the real-time HD video as well. In the process of using, the man just needs to increase the action; the woman, separated by thousands of miles, can feel a strong tremor. This happens as if the two lovers stayed together.
Love making is attractive for many people. However, in the real life, people sometimes are scared of sexually transmitted diseases, pregnancy and more.
"Obviously, the new way of love making can avoid many negative effects like diseases and pregnancy. When people enjoy the pleasant moment, they have nothing to worry about." The sales manager of the company states.
Some sex experts point out that, women may worry about the "negative effects"from EFEELINK products; furthermore, gays and lesbians will consider EFEELINK products as a good method to seek sexual satisfaction. Those who have a fantasy, curiosity and desire about sex in the real world will have a new pleasure experience via EFEELINK products.
About EFEELINK
EFEELINK, a UK company, is devoted to designing and creating innovative adult products based on modern science and technology. The company wants to help its clients worldwide find the right high-quality products to meet their individual desires. Visit http://www.efeelink.com/ for more details.
Follow EFEELINK at:
FACEBOOK: http://www.facebook.com/efeelink
TWITTER: http://twitter.com/efeelink